Elementor is a WordPress page builder plugin that allows users to create and edit websites by employing a drag-and-drop editor. It's design without having to perform any coding at all. All of the customizations are made on the front-end of the website, so the user can see the page changes take place in real time. We love Elementor and thought we'd show it some love.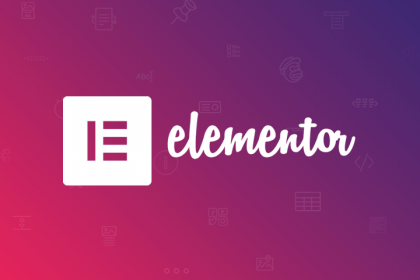 Without programming skills or website design skills, you can still create content on your exceptionally designed and amazing WordPress website!
It is WordPress' fifth most popular plugin and has been installed millions of times.
Until now, you had to make do with a back-end page builder where you made changes—and when building a website, you're making hundreds of changes—you needed to update the website, wait, and then view the result of what you had done to be sure it was correct. Doing this many times is slow, frustrating, and inspiring. Inspiring because Elementor was designed in large part to remove this tedious process.
As a front-end creative builder, Elementor gives you a real-time look at all of the changes you make. And with so much of the creative process being trial and error like adding a button or moving objects around a page, getting to see immediately the changes you made is much more efficient and thus encourages greater experimentation.
You can choose from 300 templates to build off of and they cater to a wide range of industry needs. Once you pick your template, the editor lets you control every styling detail to make it truly your own. And Elementor works with any WordPress theme.
You can also improve your website through the use of free WordPress widgets such as:
Image Gallery
Image Carousel
Google Maps
Buttons
Video
And you can embed third-party widgets and plugins as well.
Elementor Blocks provides a flexible way to build pages quickly and efficiently. They are pre-designed sections that are combined to create complete pages. Each block can be customized and comes with pre-built widgets and layout settings so you can focus on the design process and not worry about the technical aspects.
There are over 250 different block types available in 15 categories including Price, Testimonials, Call to Action, and Subscribe.
The free version gets you some great themes to choose from. Pro gets you the ability to customize every aspect of your chosen theme (header, footer) with no coding required. Elementor Pro 2.0 offers 25+ header and footer blocks, as well as a sticky header feature to help you get started.
You can design your own forms to help with conversions and leads and integrate them into your website.
Add share buttons and social media icons to connect with your channels on Facebook, Twitter, and Instagram.
You'll want to use a lot of the tools that are out there to help you make your website more powerful and successful. Elementor allows you to integrate with web tools like Mailchimp, reCAPTCHA, and Adobe Typekit.
WordPress and Elementor Pro users working with us with also have access to our excellent customer support.