In a land of walls, love knows no boundaries.
challenge
The Foundation is the fundraising arm of the Holy Family Hospital of Bethlehem in the West Bank. They needed New Target to create fresh content, compelling video, a new website and promote each through an ongoing marketing engagement. The goal is to raise more money for the good work being done in this infant and maternity Catholic teaching hospital situated in the midst of a region in conflict.
solution
The stories were there, the impact apparent, but the message of the hospital was lost behind disjointed content and needed a new storytelling approach with inspiring content of all types, text, video and infographics. The new website is clean, inviting, dynamic, and inspirational. The video produced is compelling and inspiring. The ongoing marketing highly engaging and effective across channels, owned and earned.
Social media marketing, paid marketing and more is all ongoing for the Foundation and led by our marketing team. Our marketing strategies were developed to increase the Foundation's appeal and global reach to a broader donor base.
In support of our content marketing strategy, the website was rewritten with outcomes-based copy with seamless calls to action, guiding their visitors through powerful stories and impressive statistics to the various "Donate now" actions. Our goals are to find new donors and convert them into mission ambassadors and fundraising influencers.
Through robust reporting using Google's Looker Studio real-time reporting and analytics, our marketing team is able to adapt strategies and tactics quickly as data change.
Engagement is rising fast!
We designed an updated look to their logo with all the variations they might need, and codified it and their updated brand guidelines in a brand book.
Our creative team travelled to Israel and the West Bank to gather compelling media to support creative development, our ongoing digital marketing campaign, and to shoot a documentary that will be the foundation of an ambitious digital fundraising campaign.
Built in WordPress for its power, flexibility and usability, the new website has the functionality they need and the simple interface (Elementor) that allows the staff to maintain it and grow it as needed.
Page building ease was paramount as new personal landing pages are developed for digital marketing and fundraising campaigns now and in the future.
Our integration with Blackbaud has already improved their record keeping and community outreach.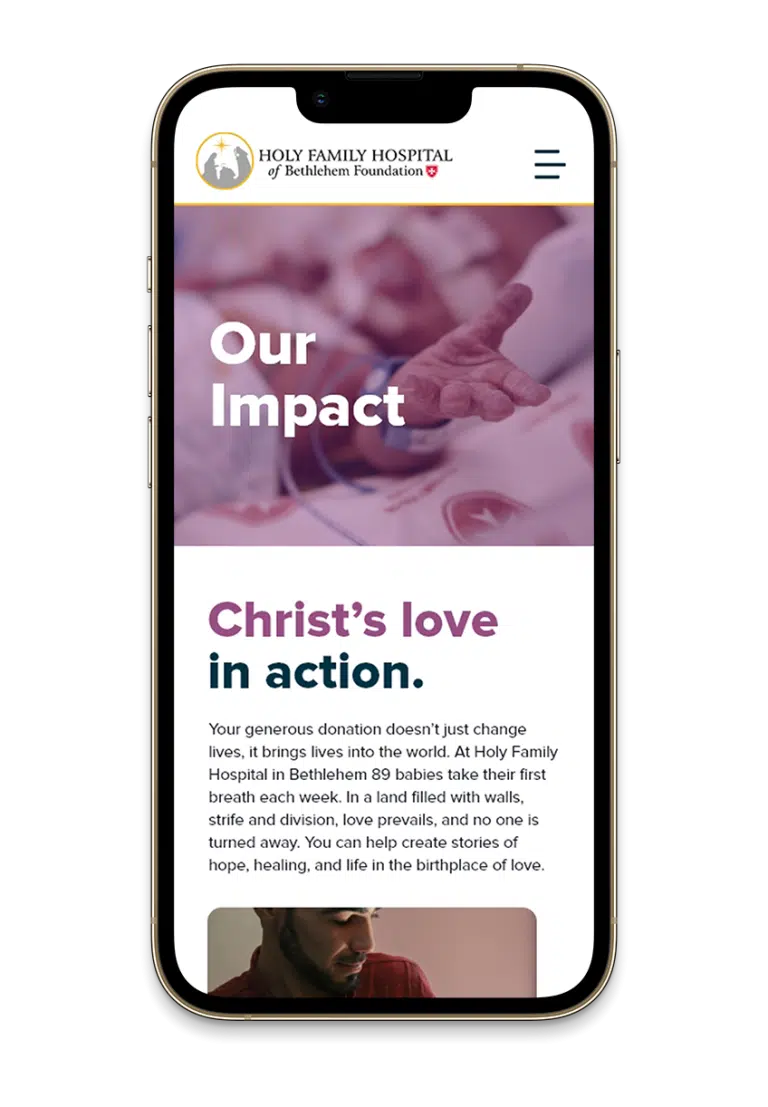 Nonprofit Video Production