Industrial Design's Digital Hub
When your client is the Industrial Designers Society of America, very little of your website design will elude creative scrutiny. Like under a jeweler's eye, every facet must be correct, functional and beautiful.
The redesign of IDSA.org has created a vibrant digital hub for the IDSA community where great ideas are exchanged freely between a global membership.
IDSA had five primary goals:
To migrate their content from a Drupal CMS to a WordPress CMS for greater control,
To improve the usability and streamline navigation for a large website with over 20,000 pages,
To integrate the new website with their association management system, Fonteva,
To serve their membership in new, innovative, and helpful ways, and
To produce a digital experience that is beautiful while delivering an outstanding members-first experience.
IDSA's brand story has received an exciting, colorful makeover that gives a vibrant new look to their much-loved industrial design content. Featuring dynamic photos of members in action, the visual feast captures the dynamic spirit and value of being part of this amazing association, by showing us what words cannot!
The new IDSA home page is tailored to all types of members, from the curious, to the seasoned professional. It features a fun and stylish tile-based member experience where content is broken into neat sections for easy access. As you explore each section, curated sliders present additional links related to that viewer's intent. Our design achieved the goal of creating an engaging visual experience while empowering members with useful information.
We used an innovative combination of user data and feedback to design a comprehensive new version of IDSA.org! Our member research revealed the most popular usage patterns from members and visitors alike, while community suggestions helped us pinpoint where we could enhance their experience even more. With this knowledge in hand, our team was able to develop a creative approach and website that optimizes a member's journey throughout the website.
IDSA.org visitors have a clear mission in mind when they come to the website, and now with its new navigation design, we're ready to help them achieve their goals. Featuring an intuitive expanding menu accessible on the top right corner of any page, users can easily discover content grouped into five categories – each containing various subsections for further exploration. So, whether you're looking for inspiring stories about industrial designers or just some info that'll help get your designs off the ground quicker, this association website will be your guide!
With the new "Microsites," members and guests can attend conferences, stay included in competitions or explore past winners in a much more enjoyable and interactive journey. Instead of individual pages that need to be searched through, visitors will find themselves presented with refreshed content organized into delightfully purposeful sub-navigation links at their fingertips. And no matter where on the site you are navigating from, it will always feel familiar thanks to its consistent design elements throughout all purpose-driven Microsite versions available.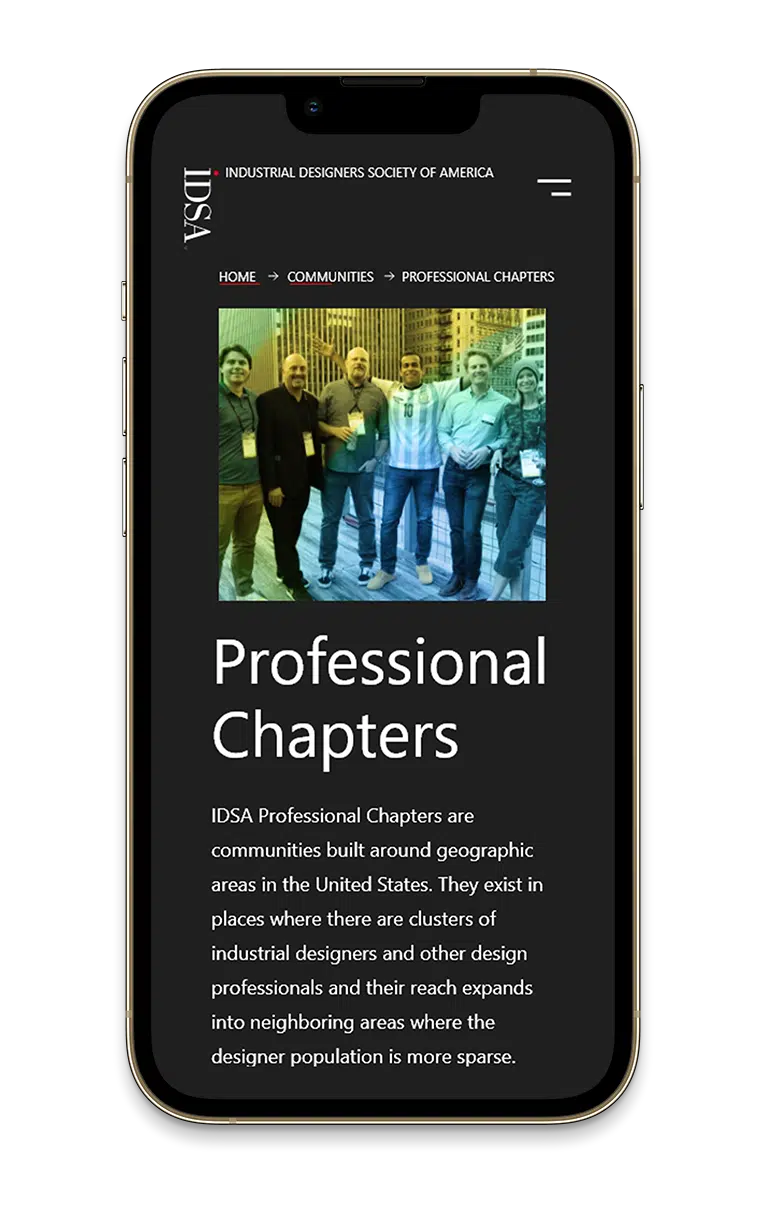 IDSA community members are the lifeblood of all that they do. Everyone who joins, speaks, is elected to a position, or lends their time and energy towards their local chapters, serves an important role. To commemorate these efforts in style, every individual can now create a visual history of their activities with IDSA over time. In addition to a profile statement and headshot, they'll be able to see (and keep updating!) contributions made at conferences, meetings, and events hosted by working groups or even within regional chapters! Each profile acts as an ever-growing record of their involvement in driving change within IDSA.
IDSA's directory is a powerful expression of every member's commitment to their craft and career. However, there were many technical complexities behind the scenes in order for this roster to be displayed securely online. The all-new membership directory allows current members more networking opportunities than ever before. Whether a member is looking through casually or taking advantage of intricate details, the design encourages the user to explore, make connections, and further their design career.
The new website lets IDSA members unlock exclusive content like designBytes – a massive 20-year collection of over 1,750 reference articles as well as the latest issues of their inhouse INNOVATION magazine directly on IDSA.org with just one sign-on and no fussing around in back-end wizardry.
IDSA's network of Chapter and Section groups just got a major facelift! The community pages now house the most up-to-date news, social media feeds, event calendars, and more. So, for those looking to meet fellow members from their group or catch those live events recordings everyone's talking about, it's all in one place with this new update!
Because IDSA is committed to creating an inclusive and accessible experience for all their visitors, we've added the UserWay web accessibility tool. This awesome feature gives every visitor with visual or audio needs a way to customize their browsing by adjusting things like text size, spacing, or even screen readers that provide real time readouts of each page. And throughout development we applied current Web Content Accessibility Guidelines (WCAG) standards – because everyone deserves access to an enjoyable site-surfing session.
IDSA is proud to bring you a trove of peer-reviewed academic research papers written by leading educators. These pioneering works provide invaluable content for their annual Education Symposium and give authors the opportunity to reach beyond their usual circles with meaningful contributions. To help maximize exposure, IDSA has launched an exclusive online archive section dedicated solely to education papers. We make it easier than ever to find these valuable resources the IDSA community needs, in one convenient location.