Connecting the digital world.
CHALLENGE
Intelsat stands as a pioneer in satellite technology, serving governments, industries, and communities. Recognizing the need for a WordPress overhaul and a fresh visual design, they partnered with New Target. Similar to numerous expansive and swiftly evolving enterprises, their website had undergone continuous additions over the years, resulting in a cumbersome and challenging management experience and making navigation increasingly complex and confusing for visitors.
SOLUTION
The New Target team accomplished this redesign within a short timeline. A key contributing factor to this achievement was the longstanding partnership between Intelsat and New Target, spanning several years, during which we consistently delivered search marketing, website maintenance, and support. This multi-year collaboration nurtured a mutual trust and a deep understanding between both organizations, resulting in a seamless working relationship within an exceptionally short timeline for the project.
When larger enterprises approach New Target for website development or digital marketing assistance, they frequently already have an internal team that has laid some groundwork.
In the instance of Intelsat, a complete visual design wasn't needed as their in-house team had already assembled all the necessary elements. Their objective was to partner with the New Target team to fine-tune the existing design and seek usage recommendations, rather than initiating an entirely new design from scratch.
New Target takes pride in its adaptability, being equally capable of collaborating with an existing team or starting a project from the ground up, tailoring its approach to meet the specific desires of the client.
As is typical during the redesign of large websites, the SEO framework undergoes changes due to the removal, relocation, or modification of web pages. By enlisting the support of New Target's marketing team, the project effectively preserved the hard-earned SEO standards.
This solution involved a blend of strategies, including implementing 301 redirects to seamlessly link old URLs to their corresponding new destinations, revising titles, descriptions, and headers to align with the updated content, optimizing fresh images, and upholding a well-structured internal linking system.
These efforts collectively facilitated search engine discovery and ranking of the content.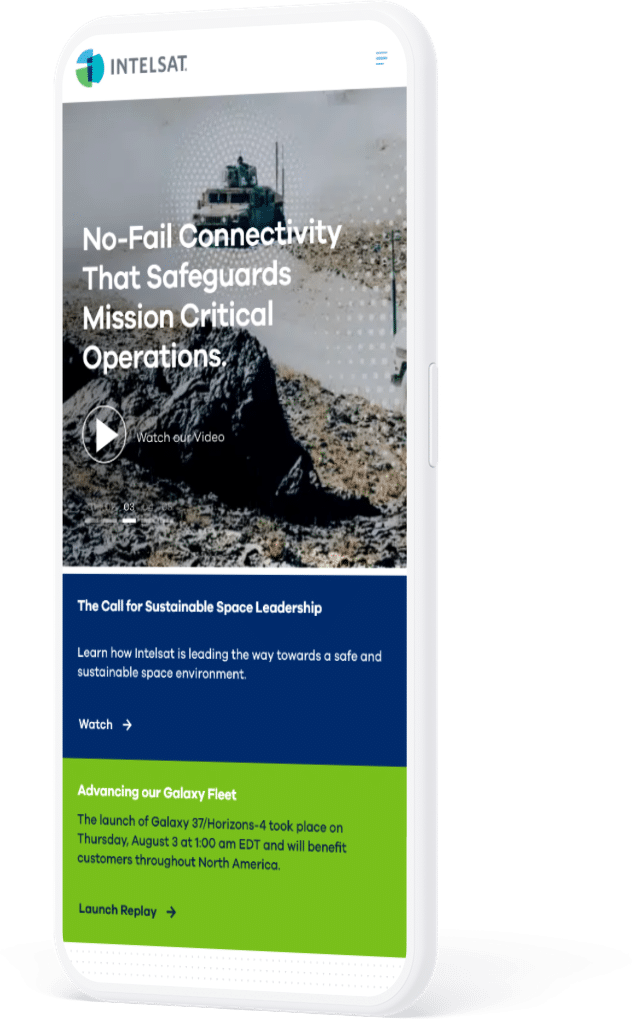 Gutenberg WordPress Editor

In order to facilitate the Intelsat team in seamlessly generating future updates, New Target chose to use the Gutenberg page builder, a tool the Intelsat team was already familiar with. It offers a block-based editing system, allowing users to easily create and customize web content by adding, rearranging, and styling individual blocks for text, images, and multimedia. With its intuitive drag-and-drop interface, Gutenberg empowers both beginners and experienced developers to craft visually appealing and highly functional web pages without the need for extensive coding knowledge.
Elasticsearch
When dealing with medium to large-scale websites, New Target's development team harnesses Elasticsearch, an open-source solution renowned for its exceptional speed in sifting through extensive datasets. Elasticsearch offers nearly real-time search capabilities, swiftly indexing and rendering newly added documents searchable almost instantly. Furthermore, it seamlessly supports multilingual text search right from the start, effectively analyzing and indexing text across various languages, making it a valuable asset for websites catering to a global audience.
Launch is Just the Beginning
Following the successful conclusion of the redesign project, Intelsat has maintained its trust in New Target for ongoing maintenance and support, regular security updates, and engagement in marketing efforts.