Tapping into a trend to lead a conversation.
CHALLENGE
#TrustScience has been around for a long time with people having a variety of conversations using it. To celebrate the International Day of Light, the UNESCO steering committee for the celebration wanted to tap into this hashtag to guide the conversation and show support for science and the scientists whose work have shaped society.
SOLUTION
New Target created a media plan and built a microsite centered around the International Day of Light to celebrate science and build a community of science supporters who #TrustScience.
From the start, the goal of the campaign was to hack the global #TrustScience funnel. To do this, we needed to feature ads and content for all six of the U.N.'s official languages that targeted multiple continents.
As part of discovery, we spent time getting to know the active online community who could help drive the conversation. As a result, we decided to target our media using demographic and geographic data, some purchased third-party data sets, and of course first-party data from people who already engage with the social profiles and the existing website.
A large portion of our campaign focused on a video ad buy that placed our content on major publication websites. Our network allowed us to expand our traditional video buy into several added-value spots including being part of a pilot program for video ads on wearables and IoT devices.
We used multiple ads that included two different length videos and four different video variations. Over the course of the campaign, we evolved our targeting and ads to maximize ROAS.
The results of the video portion of our campaign saw ads placed on major publications including Gizmodo, EuroNews, and the Independent UK. The ads saw a CTR (CTR to the microsite) that was 6.5% higher than the industry average and had a completion rate that was 38% higher than the industry average. We achieved this completion rate success through evolution. Our ads saw a 6.3% increase in completion rate each week of the campaign.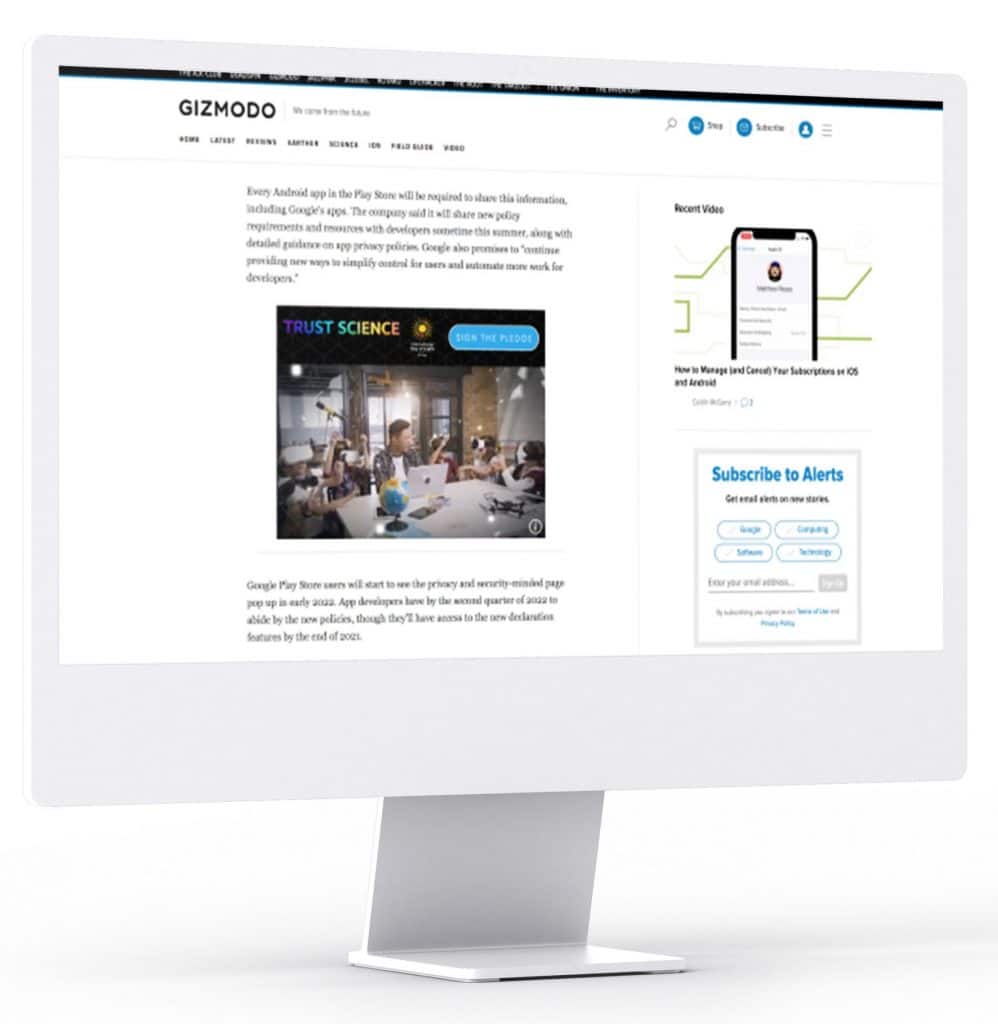 Sponsored Content & Search Ads
Building a community also meant recruiting people to sign a #TrustScience pledge. We featured the pledge and the content on a number of media outlets through a sponsored content media buy.
Additionally, we used search ads to capture people looking for ways to support science and celebrate other scientific achievements.
As a result of our search marketing and sponsored content placements, we reached more than 37,000,000 people globally.
Twitter Ads & Social Posts
The scientific community and its supporters are active on Twitter. One of the campaign's goals was to drive a hashtag-based conversation, so it made sense to place ads on the platform.
In addition to paid efforts, we created organic posts for multiple platforms including LinkedIn, Twitter, and Facebook. These posts featured the media and content created for the microsite and encouraged people to show their support by signing the "#TrustScience Pledge."
As a result of our Twitter efforts, the UNESCO Twitter account increased its reach by more than 8,000% year over year.