CHALLENGE
West Penn Laco needed to modernize its outdated website and add features that would greatly enhance our ongoing marketing efforts to promote West Penn's products and services.
SOLUTION
New Target built a user-friendly website inspired by the West Penn Laco logo that pays homage to its legacy.
As West Penn Laco's agency partner, we handle all digital advertising. This meant we already had a wealth of knowledge about their customers and their purchasing habits.
Because of this knowledge, we knew the site needed to be flexible and include an easy-to-navigate experience that allowed visitors to navigate regardless of their entry point.
Additionally, the website needed to expand the content to continue to improve search rankings and provide the flexibility to create optimized pages for paid campaigns.
We run paid search efforts for all of West Penn's services connecting with people actively searching for their products in Western Pa. We combine several Google Ad extensions in these efforts to encourage potential customers to call or fill out a form to get started with West Penn Laco.
As part of the website redesign, we ramped up our content efforts resulting in additional optimized content being created for the website to improve organic rankings and nudge visitors to convert.
Our efforts have continued to see West Penn Laco's organic rankings increase along with the number of impressions and clicks to the website.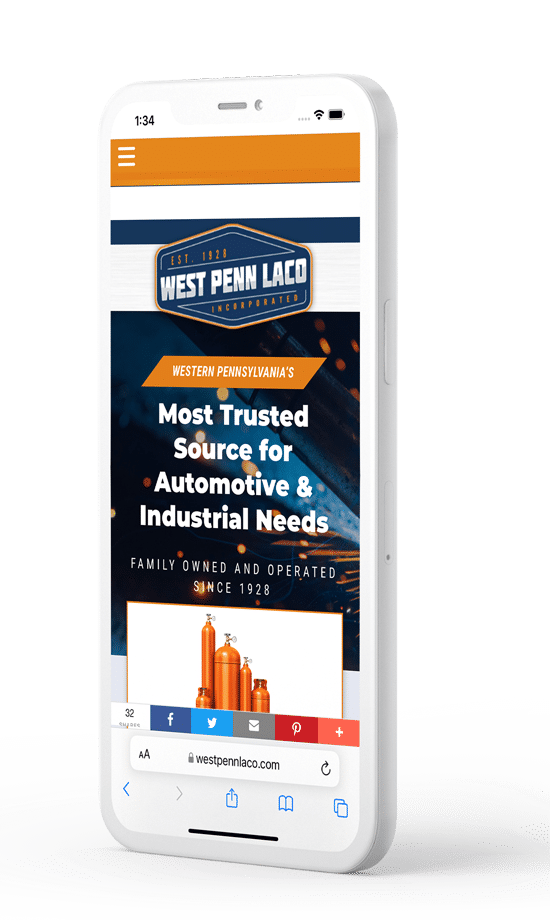 Website Design & Creative Vision
Our goal was to ensure the website remained simple yet identifiable as a local, trusted, brand. Ultimately, West Penn Laco is a company that serves their local community, so we used people-centered images and allowed for flexibility so that they could add images of their stores and staff.
The website's color palette and logo show the history of the company. The homepage is hardworking and organized as it provides paths for visitors to get a quote, see the locations on a map, learn about next-day delivery, sign-up to receive special offers, contact the company, and more.
We chose WordPress to build the website as it provides a great website management panel and allows for necessary flexibility.
The website uses WordPress Google Map Pro to show the company's locations and is secured using Wordfence. Showcasing content in a way that allows people to easily find what they're looking for was key, so the use of Easy Accordion allows West Penn to add/edit accordions throughout the website and MC4WP integrates the website with MailChimp.