Growing your nonprofit organization is all about understanding the needs of your donors. A donor's behavior can tell you a lot about why they donate and what kind of donation you should be expecting from them. To grow your nonprofit, understanding donor behavior is essential. It will help inform decisions on marketing strategy and how to best approach potential donors.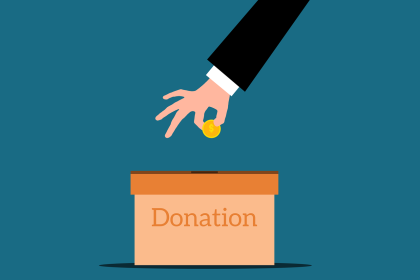 6 Ways to Understand Donor Behavior
1. Donor segmentation
Donor segmentation is one of the most powerful tools for nonprofits to understand donor behavior. It involves grouping donors into different categories based on criteria like age, gender, location, or past giving history. This allows nonprofits to tailor their messages to each segment and make sure they are providing the right kind of content that resonates with their audience. It also helps them understand which kinds of campaigns are more successful in different segments so that they know where to focus their efforts in the future.
Different generations have different motivations for giving and respond differently to marketing campaigns. Baby Boomers tend to give out of a sense of loyalty or tradition and prefer to donate through checks or cash gifts. Millennials and Gen Xers, on the other hand, often give out of a sense of responsibility or even activism. They are more likely to respond positively to online giving campaigns and peer-to-peer fundraising efforts. It's important for nonprofits to recognize these differences in order to create marketing campaigns that are tailored towards each group.
2. Predicting future behavior
Many nonprofits have begun leveraging data mining technologies such as predictive analytics in order to better understand donor behavior and target potential donors more effectively. Predictive analytics allow organizations to analyze large amounts of data in order find patterns or trends that could indicate future behaviors—such as someone who may be likely to donate soon based on past donation habits or other demographic information (age, gender, location). By utilizing this technology, nonprofits can create targeted marketing campaigns that focus specifically on individuals who are likely to give—increasing the chance that those individuals will actually donate and maximizing donation dollars for the organization overall.
3. Surveys and interviews
Nonprofits can use surveys and feedback forms to gather information from their donors about their motivations, preferences, and behaviors. Surveys can be conducted online or in-person and can be used to gather quantitative and qualitative data. Nonprofits can conduct one-on-one interviews with donors to gain a deeper understanding of their motivations and behaviors. This can be particularly effective for major donors or long-term supporters.
4. Social media listening
Social media listening is a powerful tool for nonprofits to gain insight into their donors' interests, motivations, and preferences. By tracking donor conversations on social networks, nonprofits can gain a better understanding of what resonates with their donors and how to tailor their messaging accordingly. Additionally, by monitoring social media conversations, nonprofits can also identify potential donors. Social media listening allows nonprofit organizations to build meaningful relationships with their donors and develop strategies to engage them more effectively.
5. Website analytics
Website analytics provide nonprofits with invaluable insight into the effectiveness of their website and marketing activities. By tracking donor behavior and engagement across their site, organizations can gain a better understanding of what works and what doesn't in terms of content, design, user experience, and more. It helps nonprofits to identify areas of improvement, determine which strategies are most successful in driving donations or volunteer signups, and track the overall performance of their website. Website analytics allow nonprofits to make data-driven decisions when it comes to optimizing their website and marketing campaigns, ensuring that they are making the most of their resources.
6. A/B Testing
Nonprofits can conduct A/B testing to understand what messaging and tactics are most effective in motivating donors to give. A/B testing is an effective way for nonprofits to improve the effectiveness of their campaigns and maximize their return on investment. By testing different versions of digital assets, nonprofits can learn more about the preferences of their target audience and make sure that their communications are reaching them in the most effective way. For example, A/B testing can be used to determine which version of a landing page converts more visitors into donors, or which email subject line drives more opens and clicks.
Understanding donor behavior is essential for any nonprofit looking to grow its base of supporters and increase overall engagement with its mission and vision. With the right data points available, organizations are able to tailor their messages more effectively and target potential new supporters who may be interested in helping out or donating money/time toward a cause that resonates with them personally or professionally.