Drupal has long been a stalwart CMS, empowering millions of websites with its flexibility and robust features. However, as of November 2023, Drupal 9 officially reaches its end of life (EOL) and will no longer receive security updates or get any new features. In this article, we'll explore what this means for Drupal users and the broader web development community.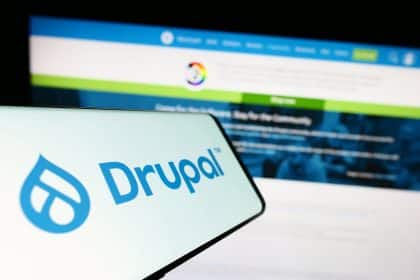 Why Update to Drupal 10?
When it comes to the technical transformation from Drupal 9 to Drupal 10, it's like peeling away layers to reveal a sleeker, more efficient core. Essentially, Drupal 10.0.0 can be seen as the culmination of Drupal 9.5.0 minus all the outdated and deprecated code that was holding it back.
However, the upgrades don't stop there. Drupal 10 introduces significant updates to several of its fundamental components, such as CKEditor, Symfony, and Twig. If your project relies on older versions of these dependencies, brace yourself for some necessary code adjustments to ensure compatibility with Drupal 10's enhanced ecosystem. In essence, Drupal 10 is more than just a facelift; it's a robust technological leap forward.
Security
With the Drupal 9 End of Life, a critical shift must take place. At this point, the responsibility for maintaining and securing your website falls squarely on your shoulders. There won't be any more safety nets in the form of security updates, leaving you to establish your own fortress of protection.
Imagine the grim scenario: hackers circling your vulnerable website like vultures, ready to pounce. The last thing you want is your or your customers' confidential data falling into the wrong hands. So, safeguarding your digital domain becomes paramount.
Performance
Security isn't the sole area demanding your attention. As technology hurtles forward, your website could languish in the digital equivalent of the Stone Age. Performance glitches and bugs will become frequent visitors, causing frustratingly slow page load times and unexpected crashes. In essence, the need to upgrade isn't just about security—it's about keeping your digital presence nimble and future-ready.
Necessary Steps to Update to Drupal 10
Check Modules: Ensure all modules and themes are Drupal 10 compatible.
Upgrade Contributed Modules: Update to the latest versions.
Drupal Check: Use upgrade status module or Drupal-check command-line tool to identify issues.
Core Update: Update Drupal Core via Composer.
Test: Thoroughly test the site on a staging environment.
Backup: Before upgrading the live site.
Apply Upgrade: Implement the upgrade on the live site.
Post-Upgrade Checks: Ensure everything works as expected.
Potential Challenges in Upgrading
Custom Code: May need to be updated or replaced.
Modules: Some contributed modules may not yet be compatible.
Theme: May require updates or a new theme.
Additional Considerations
Your staff may need training on new features and UI (Upgrade from CKEditor 4 to CKEditor 5).
Budget: Factor in development, testing, and possible downtime.
Ensure your hosting environment meets the new version's requirements.
When Will the Next Drupal Upgrade Occur?
Drupal is planning a three-year cycle for later upgrades. Drupal 10 will see EOL in November 2026 and Drupal 11 will see EOL in November of 2029. These won't require huge effort as they are aiming for continuous upgrades moving forward.
If you have intentions of transitioning to Drupal 10, it is crucial to take proactive steps at this time. Start by verifying that your Drupal 9 site is fully updated, conducting thorough compatibility testing, and formulating a migration strategy. If you are facing a Drupal 9 End of Life, seeking guidance from an expert Drupal agency is advisable to guarantee a seamless and prosperous upgrade.