TikTok is known as the platform for short-form videos and as one of the fastest growing platforms in the world with over 700 million active users, it's no wonder businesses are flocking the social media app to engage with consumers.
Most users on TikTok spend most of their time on the "For You" page which is a feed of content from people they follow but mostly contains content that the algorithm chose for them based on previous content they've engaged with. Compared to Instagram where the majority of people spend their time on the feed to see content from people they follow, TikTok is quite the opposite, giving more opportunity for content discovery.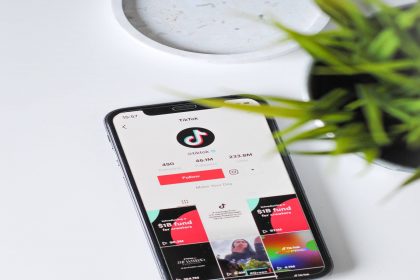 Because TikTok is all about discovery, it can potentially be a bit easier to gain visibility on the platform compared to other social networks. Even if you have 0 followers, if you produce something that gains some traction and goes viral, you have a good chance of getting millions of views overnight.
When consuming content in today's digital world and as we continue on through the coronavirus pandemic, people are craving inspiration and have an urge to discover new things.
Authenticity and transparency are highly valued on this platform especially with almost 70% of its users falling into the Gen Z demographic and younger. But, there is a continued growth in adults over 30 who get sucked into this addictive platform as well. So, if you're thinking TikTok is only for the youngsters, you are mistaken.
When creating content for TikTok, it's important to keep it relevant. Fake smiles and scripted language aren't going to stick, and people will see right through that. Don't be afraid to be silly. Add your own unique spin to your content and stick to topics that are timely as well.
You also don't need a big budget to create a highly effective video. All you really need is a good iPhone camera and some out-of-the-box thinking. This is your chance to show your brand's personality in a truly genuine and unique way.
Remember, you can have the nicest looking video, but if it doesn't resonate with your audience, it's not going to make a difference.
With that being said, it can be a great platform to explore your marketing efforts. Let's see how companies can utilize TikTok, shall we?
No one is ever done learning and more recently there has been more focus around education and being more open minded to things that are not familiar to our own cultures and habits.
We've seen this across different platforms including TikTok, and many users are using their platforms to educate their audiences on a range of topics, products, services, you name it. You want to learn some hair styling hacks? TikTok has a video for that too!
Whether you're a B2B, B2C, or any other type of brand, there's alway an opportunity to help your potential customers see how your products work, why they are beneficial, and how they can be applied to everyday life.
The key is to find a good balance between promoting your business and also incorporating the fun side of TikTok. By providing educational content around your products or services, you may be able to capture an audience that you didn't realize had a need for your business.
Through educational content, a nonprofit, for example, may be able to get additional donations toward their cause, or a small retailer may be able to get more sales from their video which shows exactly how their products are made and the quality of it. The opportunities are endless, and this is your chance to be more transparent with your audience.
TikTok is infamous for "making people buy things" with their popular hashtags like #TikTokMadeMeBuyIt which makes it a great platform for product discovery. This trend has been very popular on the "For You" page and has led brands to realize they can reach a huge audience on the platform.
From mascara to carpet cleaner, here are some ways you can create content to help drive product discovery and sales:
1. Product Demos and Reviews – Showing your audience how your products can be used, their results, and providing an honest review can do wonders.
For example, Maybelline's newest mascara was sold out in stores and racked up about 52 millions views on TikTok after an influencer who partnered with the company posted a video of her testing the product.
After that, it piqued interest and people rushed to the stores to test it out for themselves. After raving reviews from several skeptics, the product sold like hotcakes.
2. Hashtags – It may seem pretty obvious to use hashtags when you're on any social platform, but they are key on TikTok for increasing your reach.
Using the right hashtags helps users find your content and also helps you increase your chances of showing up on the "For You" page. A good approach is to use a few relevant hashtags and then two trending hashtags.
3. Sounds – Similarly to hashtags, adding popular sounds and music to your videos can also help increase your reach. Whenever someone clicks on a sound, they'll be able to see the posts that have also used that same sound.
There's also a new integration with Shopify coming soon which provides an even bigger reason for brands to create content on the platform to showcase their products.
With apps trying to improve their user experience and wanting people to spend more time on their platforms, integrated ecommerce solutions have been a focus. It will allow users to shop on the platform without having to leave the app which makes it super simple for the user.
If you want to put some money behind your marketing efforts, you can choose to run paid ads on the platform to help you reach a wider audience.
There are 4 types of TikTok ads available to advertisers:
1. Brand Takeovers – These ads play when your target audience first opens their app and can also appear on the "For You" page with a clickable link to drive traffic to your landing page.
There is also an option to use top ads which only appear after a user starts scrolling through their feed. So the user isn't automatically bombarded with an ad as soon as they open the app.
Brand takeovers are exclusive to their category and can only appear one time a day for each targeted audience, which is nice because that means there will be less competition, but in turn, you'll be paying a pretty penny for those ads.
2. Native Video Ads – These are your basic ads. They appear in between user videos in the feed on the "For You" page and can be scrolled past or skipped. They can be up to 15 seconds long, and they can include multiple calls-to-action like clicks and app downloads.
3. Sponsored Hashtag Challenges – Although you don't necessarily need to pay to create a TikTok challenge video, you do have the option to sponsor a hashtag to gain some momentum and visibility.
When sponsoring a hashtag, you can also get a custom banner on the discover page which allows users to see the videos you created explaining how the challenge works, while promoting your brand.
Let's say you're starting a new challenge on TikTok and want to get the word out. Collaborating with an influencer could be a good way to start that wildfire. It's definitely a fun and easy way for brands to rally users to create user generated content and join in on the challenge.
4. Branded AR Filters and Lenses – This option gives brands the opportunity to create their own TikTok filters and lenses for up to 10 days at a time. While these "ads" aren't necessarily traditional, they do offer a way to get some additional brand awareness as users create more videos using the video editor.
The great thing about creating videos on TikTok is the fact that it has a built in video editor, so there's no need for the extra costs for special editing software.
The video editor makes it very easy to add special effects, filters, and bunch of other features to your videos, giving you the ability to transform a quick 15-second video into something engaging