As a business owner, it's essential for you to prioritize website optimization for SEO. Website optimization or search engine optimization (SEO) is the process of improving a website's visibility on search engines such as Google and Bing to attract more visitors. While there are many benefits to optimizing your website for SEO, one of the key benefits that it provides is an increase in organic traffic – resulting in more leads and conversions. Whether you choose to do this yourself or hire someone else to help, here's what you need to know about why website optimization should be at the top of your list.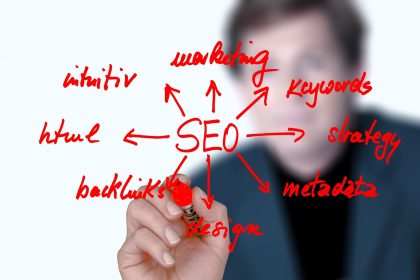 Here Are 18 Ways to Optimize Your Website
Identify the relevant keywords and phrases that users search for in relation to your business or industry.
Use title tags
Create descriptive and concise title tags that include your primary keyword and accurately describe the content on the page.
Use meta descriptions
Write compelling meta descriptions that include your primary keyword and provide a brief summary of what users can expect to find on the page.
Optimize your images
Use descriptive file names and alt tags for your images and compress them to improve your website's loading speed.
Use header tags
Use header tags (H1, H2, H3, etc.) to break up content and highlight important information. The header for this section is an H3 for example.
Create quality content
Write informative, engaging, and original content that's relevant to your target audience.
Use internal links
Use internal links to connect pages on your website and help search engines understand the structure and hierarchy of your content.
Use external links
Link to high-quality, authoritative sources that support your content.
Use schema markup
Implement schema markup to provide additional information about your website's content to search engines.
Improve your website's loading speed
Optimize your website's images, minify your code, and leverage caching to improve your website's loading speed.
Use responsive design
Use responsive design to ensure your website looks good and functions properly on all devices.
Create a mobile-friendly website
Make sure your website is mobile-friendly and uses responsive design.
Use social media
Use social media to promote your website and increase your online visibility.
Monitor your website's performance
Use tools like Google Analytics to track your website's performance and identify areas for improvement.
Create a sitemap
Create a sitemap to help search engines crawl and index your website.
Improve your website's navigation
Create a clear and user-friendly navigation menu to help users find what they're looking for.
Optimize your URLs
Create short, descriptive, and keyword-rich URLs that accurately describe the content on the page.
Use social sharing buttons
Use social sharing buttons to encourage visitors to share your content on social media (Facebook, LinkedIn, Instagram, Twitter).
Overall, optimizing your website for SEO is a great way to ensure that it reaches as many potential customers as possible. Not only will this help you gain visibility online and rank higher in search engine results, but also it can also significantly increase web traffic and improve customer experiences while they are on your website.
Working with an experienced SEO company will help you achieve these outcomes in the quickest time possible and without the hassle of learning how to do so yourself. At New Target, we have many years of experience helping businesses reach their goals with our cost-effective SEO services. We would be happy to discuss your goals with you and work together to create a strong digital presence for your business that's sure to elevate your success.