Responsive and adaptive website design, where to start? They both have their pros and cons, but one will be better for your specific site than the other. Today, we will discuss the principles of both and why which one could be right for you.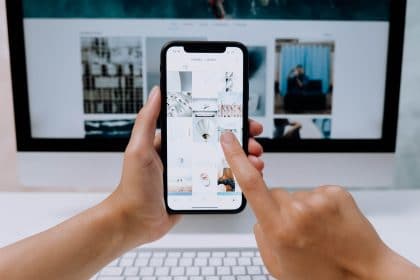 RESPONSIVE WEBSITE DESIGN
Responsive website design is fluid and responds to changes in the browser width by altering the placement of the elements to fit in the space available. Responsive website design websites present the content based on the browser space available. For example, if you were to open a responsively designed website on a desktop and change the size of the window, the content will arrange itself optimally for the size of the browser window. The same goes for mobile devices, and the process is automatic; the website evaluates the available space and shows itself in the optimal arrangement. Since responsive website design is straightforward and fluid, users have the ability to access the online world and your website from their hand-held device and have the same pleasant experience they would have on a large desktop. However, to accomplish this correctly, effective, responsive website design requires a good conceptualization of the website and a solid knowledge base of the wants and needs of your users.
On the other hand, adaptive website design, also called progressive enhancement of a website, relies on changing the design pattern to fit the available real estate. It has several fixed-layout sizes, and when the website detects the space available to it, it selects the most appropriate layout. When you open a browser on your desktop, the website chooses the best layout for that screen; therefore, resizing the browser does not impact the design. Amazon, USA Today, and Apple are a couple of websites that have embraced adaptive design and have mobile-optimized sites. Although the layout of a mobile website with adaptive design may differ from the desktop version, this is only because the designers picked a different layout for the mobile screen instead of leaving it up to the design to attempt to rearrange itself.
WHICH ONE IS RIGHT FOR YOU?
Compared to adaptive design, responsive design takes less work to implement and is easier overall. It gives you less control over your design for each screen size; however, right now, it is definitely the preferred method for creating new websites. A contributing factor to this may be the high number of affordable templates available for most Content Management Systems like WordPress. When designers create responsive website designs, they create a singular design that will be used on all screens. It will generally start in the middle of the resolution and then utilize media queries to decide what adjustments will be made for the higher and lower end of the resolution scale. This tends to satisfy users because the familiarity of the website design appears guaranteed to translate across any device's screen. For a good user experience, seamlessness and uniformity are vital considerations.
As of right now, websites that use responsive design are more search-engine-friendly, so if you are focused on SEO, then responsive website design would be the way to go.
Although there are many pros to responsive web design, it is vital to keep a couple of things in mind. First, since your website will "flow" between devices and adjust to the screen size, some advertisements that you have added might not fit into the new space. At the snap of a finger, the "shortcut" presented by using responsive web design may need to be reworked.
Another thing to note with responsive website design is that download times between desktop and mobile devices vary. You need to consider the flexibility of images; a larger design that loads quickly on a big screen takes more data and time to appear on your mobile device.
Now let's talk more about adaptive design. Adaptive design has a more relevant feel for the modern user experience as opposed to responsive designs more desktop-centric approach. People are using their mobile devices more and more, and as users, we like the feeling that our devices understand what we are going through. For example, when you are driving through a dark tunnel, don't you want your screen to automatically adapt to the surrounding environment and adjust its brightness?
With adaptive website design, you are able to optimize advertisements for all relevant user interfaces. Since you are designing for a variety of resolutions, you are able to fulfill your users' needs. The sophistication of sensors in mobile devices enables designers and companies to gain more knowledge about their users. For example, when a user frequents a store, gym, restaurant, etc., and creates a profile, we can design personalized advertisements.
Another advantage of adaptive website design is that based on research, a company with adaptive website design will typically outperform a company with a responsive design on speed tests. In fact, adaptive websites are often 2-3 times quicker than responsive ones.
Although adaptive design has its advantages, it also has some drawbacks. Adaptive website design requires a lot more work than responsive. For this reason, most adaptive designs are used to retrofit already existing websites.
Adaptive website designs also can accidentally exclude users "in the middle." For example, tablet or notebook users may be left in the dust because adaptive website designers only catered to the needs of smartphone and desktop users.
Also, since most search engines don't rank content that is identical over multiple URLs equally, an adaptive design might hold back your SEO.
Choosing whether to use responsive or adaptive website design can be difficult and takes a lot of consideration. First, you need to evaluate the pros and cons are both and think about your product or service and what type of design your specific business needs to be successful. Our website design experts utilize both responsive and adaptive website design at New Target to deliver our clients user-centered websites to engage and delight their customers. Contact us to talk about your website design!