With the economic outlook in question, how does a business owner move forward, but with a measure of caution? Have you ever felt like your marketing staff is stretched too thin? Or maybe they just don't have the expertise to get the job done right? Hiring a marketing agency can give you staff on demand and access to resources and talent that you wouldn't normally have. Consider using the expertise of an agency to handle the marketing of your business or just a project here and there.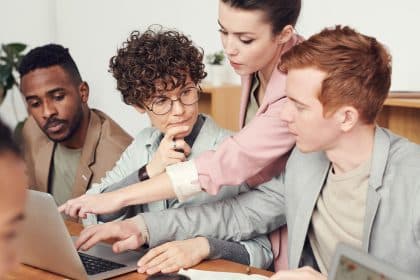 6 reasons to get a marketing staff on demand.
1. Cost-effectiveness
Whereas hiring an individual requires set wages and other employment benefits, working with a marketing agency costs less due to their economies of scale. This means that you enjoy quality services without having to break the bank. It also ensures fewer overheads in terms of associated costs such as computers, software, subscriptions, desks, and chairs, which can be quite expensive if you need to provide them for a new hire.
2. Gain Expertise and Experience
One of the biggest benefits of hiring a professional marketing agency is having access to their wealth of knowledge and experience in the industry. Agencies typically employ teams of experts who specialize in different aspects of digital marketing such as SEO, content creation, web design and development, PPC advertising, social media management etc., meaning they can provide comprehensive solutions tailored to meet your individual needs rather than relying solely on generic tactics or guesswork. Plus, they stay up to date on the latest trends so their strategies remain relevant in today's ever-changing marketplace.
3. Flexibility
Working with a marketing agency offers greater flexibility when it comes to scaling up or down depending on your needs at any given time. This is in contrast to a full-time employee who might end up costing too much during times when your company's marketing activity is slow.
4. Agility
Working with a team of various skill sets provides faster decision making and execution times, resulting in greater efficiency as compared with relying on just one person who may not have all the necessary skills set needed for optimal performance at any given time. Companies can take advantage of this agility by delegating tasks specific tasks or campaigns according to expertise available within the team while still meeting deadlines and standards expected from the job role itself.
5. Access to Strategic Insight
A professional marketing agency can bring additional strategic insight into your business that helps you make better decisions, plan long term growth strategies, measure success against objectives, develop efficient pricing models and maximize return on investment (ROI). They know what works best for different types of companies within different industries and markets; this expertise becomes invaluable when it is applied toward helping you get the most out of your investment in marketing campaigns or activities.
6. Keep Up with the Competition
A good agency can help you stay ahead of the competition by keeping a pulse on industry trends as well as analyzing data to determine what's working best for other businesses within your niche. They'll be able to provide you with insights that you may not have thought of before, giving you an edge over your competitors. Access to cutting-edge technology and tools at no extra cost – now that's priceless!
Outsourcing your marketing to an agency and getting a marketing staff on demand can help you achieve better results with less hassle. It can also save you time and money, focus on your core business, offer access to expertise, increase visibility and brand awareness, and keep up with the competition. With all these benefits in mind, it's no wonder why many businesses are choosing to outsource their marketing efforts.