Opening a laptop and going online to get news, watch a video, or listen to music doesn't require a second thought for many of us. We can easily read, see, and hear all of the content that is served to us on any device at any time. However, for the close to one billion people with auditory, visual, speech, cognitive, and neurological disabilities around the world, consuming information on the Internet can be a daily challenge. According to the National Federation for the Blind, there are over 7.3 million people in the United States alone who have varying degrees of blindness, and the U.S. Census found over one million deaf people and over eight million who are hard of hearing. Neurological disabilities, including epilepsy, affect nearly one billion people worldwide. Color blindness in various forms affects approximately 1 in 12 men and 1 in 200 women globally.1 These statistics reveal that there are a significant number of people who need special accommodations for accessing information on the Internet.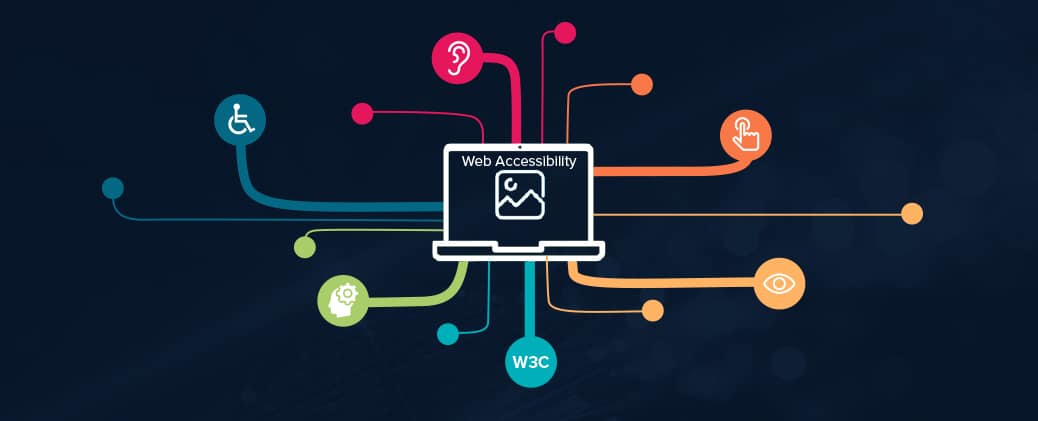 WCAG AND SECTION 508
One could assume that the Americans with Disabilities (ADA) Act legally protects persons with disabilities by providing accommodations to make the Internet accessible. However, the ADA was passed in 1990, about five years before the widespread commercialization of the Internet. Since that time, hundreds of cases have been heard in federal court with some arguing that the web is not covered under the ADA because it isn't technically a place of accommodation, like a school, store, or other public place.2 Though the legal debate continues, organizations can make their websites accessible thanks to the Web Accessibility Initiative (WAI) of the World Wide Web Consortium (W3C) that published the first accessibility guidelines (WCAG) in 1999 (Version 1) and Version 2 in 2008. These guidelines are meant for web developers and they cover a basic theme of web accessibility that is associated with one or more checkpoints that describe how to apply that guideline to particular webpage features.3 In 1998, one year before the WCAG guidelines were officially published, Congress amended the Rehabilitation Act of 1973 (Section 508) to require all Federal agencies to make their electronic and information technology accessible to people with disabilities. Though Section 508 and WCAG guidelines are almost identical, WAI standards do represent a higher level of accessibility. 4
A recent article on DigitalGov mentions a UK study which shows that, "…71% of web users with a disability will simply leave a website that is not accessible."5 Given this statistic and the fact that making your site accessible actually increases usability for all visitors, it just makes sense to design around WCAG and 508 guidelines. But what does that mean? It means through implementing practices such as using captions, alt tags, and simple navigation; turning off blinking or flickering content; including custom color combinations and various means to contact the organization; giving users sufficient time to complete tasks; and many others that are identified by the W3C organization. Granted, making your site accessible after it has been designed can be quite time consuming, but if you're not planning a redesign in the near future, evaluating and making changes to the site in small pieces is the best way to manage a project of this scope. If doing this in-house is not possible, there are firms, such as New Target, that specialize in accessibility design and development. Hiring an outside firm makes the process more efficient given their experience and it gives you the peace of mind in knowing that the site will be compliant against WCAG and/or 508 standards.
The law surrounding website accessibility is still being debated, but that doesn't mean your website should offer a less-than-optimal experience for people with disabilities. Develop a plan for thoughtful design and start on a path of keeping WCAG and 508 guidelines top of mind. Educating your staff will help to provide some insight into responsible website practices. Have questions about accessibility? Contact one of our specialists.
References
1. Business Law Today, American Bar Association http://www.americanbar.org/publications/blt/2016/12/07_espino.html
2. Business Law Today, American Bar Association http://www.americanbar.org/publications/blt/2016/12/07_espino.html
3. Wikipedia – https://en.wikipedia.org/wiki/Web_Content_Accessibility_Guidelines
4. GSA – https://www.section508.gov/content/learn/laws-and-policies
5. DigitalGov – https://www.digitalgov.gov/2017/05/09/benefits-of-accessible-design/
Please contact us if you are interested in working with a world-class and highly experienced full-service digital firm.