At New Target, we are SEO experts and understand how crucial good SEO is to your website; that's why we love Rank Math.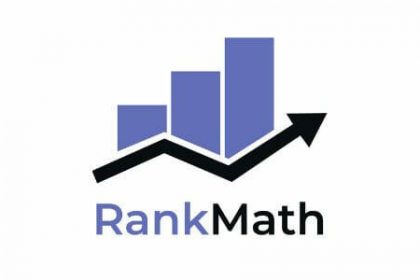 RankMath is an excellent WordPress SEO plugin that makes it simple for anyone to optimize their content using built-in recommendations based on widely accepted best practices. You can simply adjust important SEO settings in your websites, such as which pages are indexable and how you want your website to appear in search results with Structured data.
Features and Benefits
• Easy Setup Wizard
Rank Math comes with a simple UI that allows you to link it with your WordPress website in only a few clicks after installation.
It checks your website settings and analyzes related statistics before recommending the best settings for your WordPress website's optimal performance.
The SEO, social, and webmaster accounts, as well as other SEO-related settings, are subsequently installed through the setup wizard.
After that, it basically configures itself based on your prior inputs, and once that is complete, you are ready to use Rank Math.
Note: If you're currently using Yoast, Rank Math will pick up on your existing settings, preserving your website's SEO.
• Simple UI
The system analyzes all of your posts, and the user interface emphasizes SEO recommendations for each one. You can easily follow these instructions to boost your website's ranking in a matter of seconds.
The user interface also includes an Advanced Snippet Preview, which shows you how your snippet will appear on a search engine result page.
You can make any necessary changes before eventually uploading it, and you can even see how your post will appear on social media.
• Advanced SEO Analytics
Rank Math will examine and provide a summary of all your current SEO-related efforts, as well as tips on how to make the most of them, based on 40 different parameters.
You'll also be able to see how your website or page performed in search results, so you can figure out which ones made it to the top and why.
The overview is beautifully presented, and all of the website content is represented with a clear label related to its content, so you can figure out what kind of content your visitors want to digest.
You can access information from Google Search Console through your WordPress admin panel at any time.
Also, you don't have to separately go to the website to check your keyword rank, sitemap status, or indexing issues.
• Google Analytics Integration
You can quickly keep track of your online business's statistics and search and/or compare trending keywords on Google Trends without having to go online separately because it's available from your WP Dashboard.
• Keyword Rank Tracker
You can use Rank Math Rank Tracker from your dashboard at any time to check how your website compares to the competition based on keywords you choose.
You can track up to 500 words across all of your websites with the Pro package and up to 10,000 words with the Business pack.
By tracking your keywords and their position on search engines, you can plan your keyword placement, frequency, and other factors to stay ahead of your competitors.
The position history feature is a lifesaver if you prefer to periodically mix up your SEO strategies to see what works best for you. It allows you to look back on your website's performance in the past and determine the exact SEO combination that worked for you.
• Advanced Schema Generator
An enticing schema establishes a strong relationship with your visitor; Rank Math supports 840+ schema types, schema editing, and custom schema creation, making your content stand out from the crowd of search engine page suggestions.
You may also import any schema markup URL from any page or post on another website, as well as preview any schema markup against Google's Rich Result Validation tool, which is accessible from your WP Dashboard.
Rank Math provides a variety of pre-designed templates for various schema development needs, including Article schema, Product schema, Events schema, Video schema, and Local Business schema.
Most importantly, Knowledge Graph Meta Data and the FAQ's schema block, as well as a speakable schema, may be built quickly and easily.
• XML Sitemap
Rank Math creates an XML sitemap that is search-engine friendly, allowing search engines like Google, Bing, and others to discover and index your website.
These are simple to change and entirely adjustable, and they provide you with complete control over how your search engine indexes your content.
You can also get listed by Google news using the news sitemap tool in Rank Math; all you have to do is submit a few details about your website, and you're done.
Rank Math carefully adheres to Google's video sitemap guidelines, which means your video will gain greater traction because the play button will be right there in the user's search results, ensuring views.
• Advanced Image SEO
You have complete control over your images with Rank Math; for example, you may include alt text, title text, captions, etc. Because the UI has complete control over images, it can automatically add ALT and Title to your website's photos.
This also aids in improving your local presence since your website will rank better in local searches, resulting in increased traffic.
Image SEO is also accessible in the free version, but the Pro version gives you more options.
• Keyword and Content Analysis
This analytical tool, which is built right into your WordPress dashboard, is as excellent as it gets when it comes to identifying keyword opportunities and optimizing your SEO.
This tool highlights all of the keywords that contributed to your post's rating, and you can use this information to create content with a complete understanding of keyword placement and frequency. You can view any individual post or page to see a clear overview of keyword placement, analysis, and any other statistic connected to keyword use on your website or page.
No matter how great your content is, it will never reach large audiences if it doesn't appear in search results.
Good search engine optimization increases the likelihood of your website appearing in search engine results and guarantees that your business receives direct traffic.
Rank Math has gained a lot of traction in this market, and for good reason: it's substantially less expensive than the competition, has more features for a lower price, and surpasses the competition in almost every aspect of SEO.