Your business' branding is way more important than you might think. On the outside, it might seem like your brand consists only of elements such as logos and colors, but think again; your brand is actually the whole identity of your business. Your brand is what gives your business personality.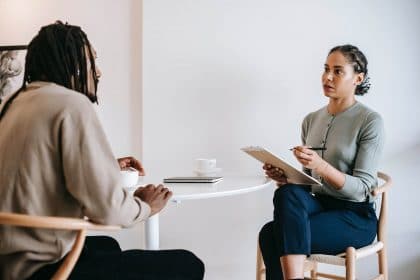 But what do you do if you find yourself having a hard time explaining what your business does or why it's unique? Or, if every time you give your elevator pitch, you change it because nothing ever sounds right?
The brand development process has many steps and can be a little time-consuming, but we promise you it is well worth the effort. And don't worry, New Target can help you every step of the way.
At New Target, we believe one of the most crucial aspects of the branding process is stakeholder interviews. They are a very powerful form of gathering perceptions which is essential when developing your brand values further down the line. In addition, they embrace your employees and key members of your business and allow them to be a part of the branding or rebranding process. Because, after all, your business is the people behind it.
WHAT IS A STAKEHOLDER INTERVIEW?
A stakeholder can be anyone within a company who can offer helpful advice about the organization and ultimately simplify the branding process. In addition, stakeholders depend on the brand's success for their own personal or professional gain. Stakeholders are typically high-level employees, but they can also be lower-level employees, prominent customers, or board members of the company. A stakeholder interview is a part of the branding process where we, well, interview the stakeholders to find out crucial information about your company.
WHAT IS THE GOAL?
Our stakeholder interviews aim to reveal not necessarily opinions or improvements for the business but the keyword associations they make about their business. For example, we want to understand to what extent money matters to your company. Is your business a vehicle for a paycheck or does it mean something more to you and your employees?
Branding has importance both inside and outside of your firm. Naturally, you want your employees to like their work and feel like they're part of a team. A company with strong branding will have an easier time convincing employees that they are part of something bigger than just a job. We analyze what emotional attachment the employees have to the business and what level that functions at. Great companies are connected to their employees at a deep emotional level. They spend a portion of their marketing budget to internally market to their staff, to help them embrace and understand the ethos of their business.
To understand who you are as a company from the outside, we ask many questions like, How do people describe your work? And, How do you want people to feel when they engage with you? This helps us uncover information about who you want to be as a business. Also, asking questions about your tone is very valuable because a major aspect of who you are as a brand is how you interact with your customers and your company's perceived voice.
BENEFITS OF STAKEHOLDER INTERVIEWS
1. Create Cohesive Brand Image
For any given project, there are usually many key players involved, so what better opportunity than the beginning to reach a common consensus on who your brand is. There's a high chance that there could be more than one stakeholder, so taking time with each one and listening to each of their unique perspectives really helps our team get an idea of how they influence the branding process.
2. Set the Right Goals
Stakeholders provide a majority of the necessary context for what the company's brand image will be. We believe that asking about each stakeholder's goals, purpose, and agenda gives us immeasurable insights to create a successful brand.
3. Saves Time and Money
Our team would never want to make assumptions about your company for various reasons: avoiding assumptions saves our team from having to do time-consuming and expensive rebranding activities. This means we are able to deliver you a great final product faster so you can get your brand out there!
4. Collaboration
Communication and collaboration are key to any good business. Having a good rapport with our clients' key stakeholders allows us to build trust and credibility, which is important when trying to create an authentic brand that is true to your company. We like to view our relationships with our clients as more of a partnership to make sure everyone feels validated, and the branding process can flow smoothly.
5. Problem Solving
Interviewing our clients' stakeholders from the start allows us to see any constraints our team might be facing and brings them to the surface from the beginning instead of being surprised by them later on in the process. If we are aware of any time constraints or things of that matter, we are able to structure the brand development process in the best possible way for our clients that allow them to have a significant say in all decisions we have to make.
Whether we are working with a large corporation or a small startup, stakeholder interviews are vital to establishing a meaningful relationship with our clients. These relationships we foster with our clients allow us to create the most authentic brand for your amazing company. So contact us today to get started with the branding process!