Connecting cultures digitally.
CHALLENGE
IIE-SRF needed to reconnect its branding and global mission to its digital presence.
SOLUTION
New Target created a new website that captured the IIE-SRF essence and tells its story through data, imagery, and personal stories.
From a technological standpoint, we needed to provide a more flexible system to administer content.
Throughout our discovery process, we got to know the IIE-SRF audience and their needs. We learned what connects with them and drives them to act. As a result of our discovery process, we created a website that includes nudges for visitors and presents emotional stories in ways that encourage people to act.
Website Design & Creative Vision
We created a clean website that allows visitors to engage with the content and dig deep into the IIE-SRF mission. As part of this process, we removed distractions and created organized pages and a visual hierarchy that guides visitors to the information they're looking for.
The streamlined user experience with the addition of several colors to the color palette gives the site a hopeful feel. Creating a site that adheres to the WCAG 2.0 standards was a priority for the IIE-SRF team and something that informed many of our decisions throughout the design and development process.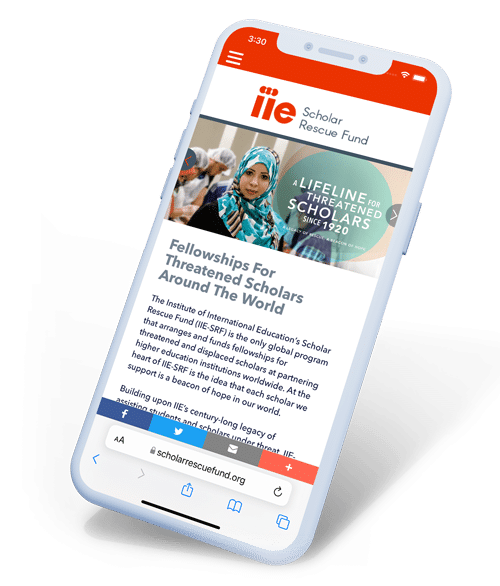 This project included a migration from Drupal to WordPress. We selected WordPress as the CMS to power this solution in part because of its content authoring capabilities.
The site uses a multi-language switcher that helps provide access to the non-English speaking community around the world and Power BI provides data visualizations.