Providing equitable user experiences online.
We believe that every website should be intuitive for all users including people with auditory, cognitive, physical, speech, and visual disabilities. Our creative team works with you to maximize the usage of your website through user experience research, usability testing, and accessibility testing.
The best way to accomplish more efficient and effective use of a website is by starting a project with objective data-gathering techniques, such as surveys, stakeholder and user interviews, and focus groups. These techniques help develop a clear understanding of your users' needs and preferences, which can be translated into a new navigation scheme, layout, and design.
But we don't stop there. By asking the right questions during unmoderated and moderated usability testing as well as conducting our own accessibility audit of the code we have written, we are able to continue updating your navigation, layout, design, and functionality to improve the website iteratively.
We are experts in all areas of usability and accessibility, including user-centered design, usability testing, 508 compliance, and the W3C Web Content Accessibility Guidelines (WCAG). Accessibility is more than well-structured markup, although it is that too. Accessibility requires an in-depth comprehensive review of both the markup as well as the content, including videos, documents, and images for all appropriate, closed captioning, content tags, and alternative text tags. While remediation is a first step, an ongoing commitment to new content being created and shared in accessibly compliant media is a must beyond any initial project. Below, our accessibility widget is offered as a first step toward accessibility compliance.  
To get started with an accessibility review and audit to determine the required services to make your website more inclusive, please contact us today. 
Shining light on global religious freedom infractions.
USCIRF is an independent, bipartisan U.S. federal government commission that monitors the universal right to freedom of religion or belief abroad. New Target helped USCRIF create an accessible website that works. 
AI-POWERED ACCESSIBILITY WIDGET BY NEW TARGET
We're happy to offer an advanced accessibility assistance widget powered by AI and machine learning.
Screen Reader
Our industry-leading screen reader reads aloud all page contents without needing to install an external screen reader.
Keyboard Navigation
WCAG 2.1, §2.1
Enables users to navigate web pages using only a keyboard. Helps mobility- and visually-impaired users quickly move through website pages to access the information they need without using a mouse or pointer device.
Contrast +
WCAG 2.1 (1.4.3, 1.4.6)
Boost the contrast of all site elements with a high contrast light color theme. One-click remediation to inaccessible and non-compliant low contrast elements, texts, buttons & form fields.
Highlight Links
Emphasize links, buttons, and other interactive elements in clear, high-contrast colors that are easy to identify. Highlights clickable items for easier site usability, navigation, and overall accessibility.
Bigger Text
WCAG 2.1 (1.4.4)
Cycles on-screen texts through four different levels of text-size increases. Makes every part of your site instantly more readable.
Text Spacing
WCAG 2.1 (1.4.12)
Modify text and line spacing for improved readability for dyslexic and visually impaired users. Offers three degrees of adjustments for a personalized and more accessible reading experience.
Pause Animations
WCAG 2.1 (2.3)
Pauses content that moves or auto-updates that is considered an accessibility barrier. Stops animations, blinking, and flashing content that distracts and may trigger seizures.
Dyslexia Friendly
Our Dyslexia Friendly Font enhances readability for those with dyslexia and provides an easier and more fluid reading experience that is tailored to site visitors with dyslexia.
Cursor
Increases the standard cursor size by 400% to ensure the pointer always remains in sight. Allows for faster and more accessible navigation through hyperlinks, tabs, and form elements.
Tooltips
WCAG 2.1 (3.3.2)
Shows alternative text and aria labels for on-screen elements with a simple mouse hover. Tooltips are prominent, high contrast, and easy to read for low-vision users with accessibility needs.
Tiered pricing based on the traffic your website receives. We scale with you.
Standard Traffic
Up to 300K monthly pageviews
Advanced Traffic
Up to 3 million monthly pageviews
Enterprise Traffic
Up to 30 million monthly pageviews
Real time and historical usage statistics and trends. Gain insight into which accessibility features your visitors use the most.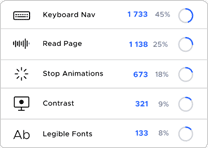 Turn off or re-order any of the accessibility features on the main accessibility menu.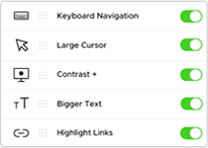 Let's talk about how we can help you