Marketing is essential for any small business to grow and be successful. Whether your business offers a product or service, you need to have an effective marketing strategy in place that will help you reach potential customers and increase sales.
When creating a marketing plan for your small business, it's important to keep in mind that no two businesses are alike. Your strategy should be tailored to the unique needs of your business and the goals that you have set. You should also devote time to researching your competition and understanding their strengths and weaknesses. This research can help inform your own strategy, so that you can establish a competitive advantage in the marketplace.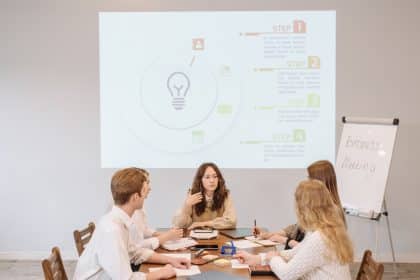 Whether you are starting from scratch or revising an existing plan, there are 10 steps that can help make sure your efforts are successful.
1. Try Content Marketing
Content marketing is an invaluable tool for small businesses and should be part of your overall marketing strategy. Creating content such as blog posts, videos, infographics, and eBooks can help establish your business as an expert in its field while also providing valuable information for customers.
2. Invest in SEO
Search engine optimization (SEO) can have a huge impact on the visibility of your business online. Focusing on SEO involves optimizing content with keywords related to your product or service, as well as making sure that all aspects of your website are search engine friendly. To maximize the effect of SEO, consider investing in professional SEO services that can help you reach a larger audience and drive more relevant traffic to your website.
3. Utilize Social Media
Social media is an essential tool for any small business, offering the opportunity to reach a large number of potential customers in just a few clicks. Building an online presence on platforms like Facebook, Twitter, and Instagram will help you engage with your target audience, build relationships with customers and increase brand recognition. You should also use each platform's analytics tools to track user engagement and tailor content effectively.
4. Offer Promotions and Discounts
Offering discounts or special promotions can be a great way to generate interest and even loyalty among current customers, as well as attract new ones. Consider creating limited time offers that entice customers to take advantage of your products or services. You can also use discounts to reward loyal customers and encourage them to keep returning.
5. Use Analytics
Analyzing data is essential when it comes to evaluating the success of marketing efforts. Tracking website visits, social media followers, and conversions will help you understand where your prospects are coming from and which channels are most effective in generating leads. You can then use this information to refine your strategies and boost ROI.
6. Take Advantage of Mobile Marketing
With more people using mobile devices than ever before, mobile marketing has become a key component for any successful business strategy. Creating mobile-friendly content such as text messages, ads, videos, apps and websites can help you maximize visibility across all devices. Be sure to take advantage of location-based targeting and push notifications to engage with your target audience on the go.
7. Utilize Email Marketing
Email marketing is an incredibly powerful tool for small businesses. Sending out regular newsletters, special offers or other content can help keep your customers engaged and increase loyalty over time. You should also consider segmenting your list into different groups based on customer interests so that you can send targeted messages that are more relevant to each individual.
8. Leverage Influencer Marketing
Influencer marketing is a great way to reach new customers and increase visibility for your brand. By partnering with influencers, who have already built-up a following of their own, you can tap into their existing audiences and amplify your message. Start by looking for influencers in your industry and build relationships with them to develop mutually beneficial partnerships.
9. Track Your Progress
Regularly measuring the performance of each of your marketing campaigns will help you understand which efforts are working and which need improvement. Be sure to track key metrics such as website traffic, engagement rates and conversions so that you can adjust your strategies accordingly. This will also give you valuable insight into what type of content resonates most with your target audience.
10. Test and Experiment
Constantly testing and experimenting with new marketing tactics can help you stay ahead of the competition. Try out different strategies to find out which ones work best for your business, then use that information to refine your approach and maximize ROI. Don't be afraid to try something new—you never know what might give you an edge!
By utilizing these 10 tips, your small businesses can create effective marketing strategies that will help you grow your brand, reach more customers and increase conversions over time. With the right combination of tactics, any small business can optimize its presence online, engage with its target audience and boost sales in no time. The key is knowing which approaches are right for your business and taking the time to implement them correctly.