You want to make sure that your association website is performing at its very best. From making it look more attractive and engaging to making sure it is optimized for search engine visibility, there are many things you can do to boost the performance of your site.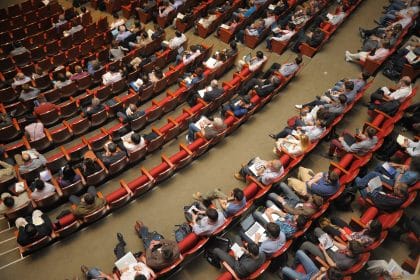 9 Ways to Improve Your Association Website
1. Make Navigation Easy
A website should be designed so that users can find the content they need quickly and without having to click too many times. Associations should create a clear menu system with main categories and subcategories, making sure each page is properly labeled so members know what section of the website they are in. Additionally, search functions should be available to allow members to easily find specific content within the site. Additionally, ensure that all navigation links are clearly labeled and lead visitors to the correct page.
2. Optimize for Mobile
It is crucial to make sure your association website looks great on both desktop and mobile devices, as many of your members may be browsing from their phone or tablet. A mobile-friendly site will not only provide a more enjoyable experience for users but also improve search engine rankings and usability.
3. Make Sign-in Easy
When building out your association website, make sure that the sign in process is simple and straightforward so that users have an effortless experience logging in. This could involve adding a single sign-on option that allows members to quickly log in with one username and password or including social media accounts for easy access.
4. Highlight Member Benefits
Promote the benefits of being a member. Include sections on your association website featuring perks and discounts provided by your association as well as any other resources available to members. This can help increase engagement levels among existing members and encourage prospective ones to join.
5. Regularly Update Content
Ensure that your association website remains up to date by regularly publishing new content such as blog posts, videos, podcasts, webinars, etc. Doing so will keep visitors engaged and coming back for more. Additionally, providing fresh content regularly will also attract new visitors to your site.
6. Increase Engagement
Associations can increase member engagement by using interactive forms, such as quizzes, surveys, and polls. These are a great way to get members involved in the decision-making process of the organization while allowing them to provide their feedback on important topics. Additionally, associations should consider adding social media platforms such as Facebook and Twitter so members can communicate with each other more easily.
7. Provide Resources and Support
Members need access to quality information that can help them stay informed about the latest industry developments and best practices for their profession. Associations should make sure that all this information is available through their website, in an easy-to-find format. Moreover, they should also offer online forums or chat rooms where members can ask questions and get support from their peers.
8. Automate Processes
Technology has made it easier than ever for associations to automate certain tasks, such as membership payments or event registrations, which can save time and money for both the organization and its members. By using automated systems on their websites, associations can ensure that all processes are streamlined and efficient, resulting in a better user experience for members.
9. Use Data to Inform Decision-making
Associations should collect data from their website users in order to gain insights into the behaviors of their members. This data can help them make informed decisions about how to improve their website and content, as well as what new features or services would be beneficial for members. Additionally, analytics tools can provide valuable information on which pages on the website are most popular among members, giving associations a better understanding of what topics, they need to focus on.
By implementing these 9 strategies, associations will be able to create a website tailored to their members' needs that will help grow engagement and create an overall better user experience. In turn, this will help associations increase membership and grow their organization.