Cvent is a cloud-based event management software that helps organizations manage their events, meetings, and conferences. It is one of the leading event management software in the industry, providing comprehensive solutions for event planners, marketing professionals, and organizations of all sizes. The software has grown to include over 450,000 users in more than 100 countries, making it one of the most popular event management software solutions available.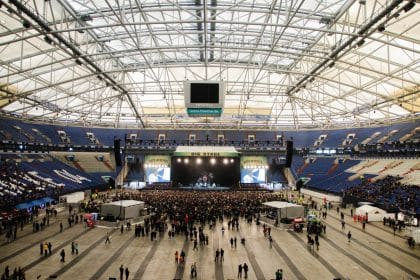 The Power of In-Person Events
Events can be a powerful tool for nonprofit organizations to raise their profile and gain more donations. Hosting in-person events can provide an opportunity for nonprofits to connect with potential donors on a personal level. People are more likely to donate to a cause when they feel a personal connection to it, and meeting face-to-face with representatives from a nonprofit can help build that connection.
In-person events can also help raise awareness about a nonprofit's cause or mission. When nonprofits hold events, they often attract media coverage and word-of-mouth attention, which can help spread their message to a wider audience.
In-person events can provide an opportunity for nonprofits to showcase their impact and the work they are doing. This can be particularly effective for organizations that work on issues that are difficult to understand or that are not well-known.
In-person events can also serve as a way to raise funds for the organization. By charging admission or selling tickets, nonprofits can generate revenue while also raising awareness and building connections with potential donors.
Key Features of Cvent
1. Event Registration
Cvent provides an easy-to-use registration system that allows organizations to create customized registration forms, send invitations, manage attendee information, and process payments online. It also provides a secure payment gateway, making it easier for organizations to manage financial transactions.
2. Event Management
Cvent's event management module allows organizations to manage various aspects of their events, including agenda planning, venue selection, logistics management, and vendor management. The software also provides real-time event analytics to help organizations track and monitor their event success.
3. Marketing Automation
Cvent's marketing automation module helps organizations promote their events through email marketing campaigns, social media integration, and website integration. It also provides customizable templates for event invitations, reminders, and post-event surveys.
4. Mobile Event App
Cvent's mobile event app provides attendees with a personalized event experience by offering easy access to event schedules, attendee lists, session information, and speaker bios. It also allows attendees to network with each other, engage with event sponsors, and participate in live polls and surveys.
5. Onsite Check-In
Cvent's onsite check-in module enables organizations to streamline the check-in process, reducing waiting times for attendees. The software allows for barcode scanning, mobile check-in, and self-service kiosks.
6. Customized Event Websites
Cvent allows your nonprofit to create customized event websites that showcase your event information, photos, videos, and sponsor logos. This can help attract more attendees and sponsors.
7. Event Reporting
Cvent can generate detailed reports on event attendance, registration data, and marketing campaign performance. This can help your nonprofit track event success and make data-driven decisions.
8. Integrated Payment Processing
Cvent can handle all aspects of payment processing, including credit card processing, invoicing, and refunds. This can help your nonprofit streamline event revenue management.
9. Event Surveys
Cvent can create post-event surveys to gather feedback from attendees and sponsors. This can help your nonprofit make improvements and plan better events in the future.
10. Integration with CRMs
Cvent can integrate with your nonprofit's customer relationship management (CRM) system, allowing you to easily import attendee data and track event interactions. This can help your nonprofit build and maintain relationships with attendees and sponsors.
Cvent is an essential tool for any nonprofit organization looking to streamline their event planning and management, increase attendance and fundraising, and provide a superior attendee experience. With its comprehensive features and user-friendly interface, Cvent is a must-have for any nonprofit organization looking to take their events to the next level.
From websites to campaigns, marketing to branding, New Target loves to support nonprofits and their missions. We are highly experienced and have a solid track record to prove it. Reach out and see how we can help amplify your mission and increase your donations.