The digital revolution has transformed the way we shop, changing the very essence of retail from brick-and-mortar stores to the virtual aisles of the internet. Businesses who want to engage in ecommerce in Southern California must harness the power of the internet for sales and growth. When it comes to building a robust ecommerce presence, WordPress and WooCommerce are emerging as a dynamic duo, proving why they are a popular choice among Southern California businesses looking to excel in the digital marketplace.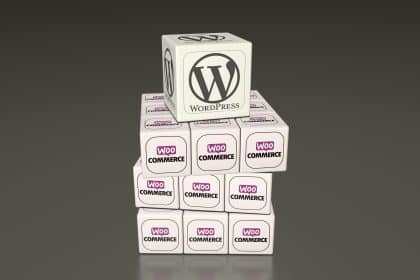 WordPress for Ecommerce in Southern California
WordPress is a versatile and widely used content management system (CMS) that has gained immense popularity among ecommerce website owners. Its ease of use, scalability, and extensive plugin support make it an excellent choice for building and managing online stores. Here are the top ten reasons why WordPress is often considered the best CMS for an ecommerce website:
User-Friendly Interface
WordPress is known for its intuitive and user-friendly interface, making it accessible to both beginners and experienced users. You don't need advanced technical skills to manage your online store, which is crucial for entrepreneurs and small business owners.
Abundance of Ecommerce Plugins
WordPress offers a vast library of plugins, including popular options like WooCommerce, Easy Digital Downloads, and WP eCommerce. These plugins empower you to add powerful ecommerce features to your website, from product catalogs and shopping carts to payment gateways and inventory management.
Customization Capabilities
WordPress is highly customizable, allowing you to create a unique online shopping experience for your customers. You can choose from thousands of themes and templates to match your brand's identity and customize them to meet your specific requirements.
SEO-Friendly
WordPress is inherently search engine-friendly. With the right SEO plugins and practices, you can optimize your ecommerce site for search engines, improving your chances of ranking well in search results and driving organic traffic to your store.
Mobile Responsiveness
The majority of online shoppers use mobile devices to browse and make purchases. WordPress themes are typically designed to be mobile-responsive, ensuring that your ecommerce website looks and works great on smartphones and tablets. Ensuring an excellent UX design for ecommerce on devices goes a long way because increasingly, on their phones and iPads is where your customers shop.
Scalability
As your ecommerce business grows, you'll need a CMS that can scale with you. WordPress is easily scalable, and you can expand your product offerings, customer base, and website features without a significant technical hassle.
Security
WordPress takes security seriously and regularly releases updates to address vulnerabilities. Additionally, you can enhance your site's security through plugins and best practices, safeguarding sensitive customer data and transactions.
Community Support
WordPress has a vast and active community of users, developers, and designers who are readily available to provide support, answer questions, and share tips. You can find solutions to most issues and stay updated with the latest trends in ecommerce.
Blog Integration
Content marketing is a crucial aspect of ecommerce success. WordPress seamlessly integrates a blogging platform, allowing you to create and share valuable content that can drive traffic, engage customers, and improve your site's overall visibility.
Cost-Effective
Many of the essential tools and plugins for WordPress are open-source or have free versions available, making it a cost-effective solution for small and medium-sized ecommerce businesses. You can start with minimal investment and expand your site as needed.
WooCommerce for Ecommerce in Southern California
WooCommerce is a powerful plugin specifically designed for ecommerce. It seamlessly integrates with your WordPress website, enhancing it with robust ecommerce functionality.
Key Features
WooCommerce boasts a range of features that simplify and enhance your ecommerce operations, including product management, payment and shipping options, an extensive extension library, and detailed analytics and reporting tools.
Flexibility and Scalability
Whether you're a small start-up or an established enterprise, WooCommerce's flexibility ensures that it can adapt to your business needs. You can start with a small product catalog and grow into a full-fledged ecommerce powerhouse with ease.
Seamless Integration
One of the key advantages of using WordPress and WooCommerce together is the seamless integration. WooCommerce can be effortlessly installed as a WordPress plugin, providing a unified environment for managing your content and products. This streamlined setup saves time and resources, allowing you to focus on what really matters—your business.
Design and Customization
The combination of WordPress and WooCommerce offers a wide range of design options, including numerous themes and templates, as well as customization tools. This flexibility enables you to create a unique and branded online store that captivates your target audience.
Ecommerce Functionality
WooCommerce provides all the essential ecommerce features you need, from product listings and categorization to a user-friendly shopping cart and checkout process. It also supports inventory management and can efficiently handle large product catalogs and high website traffic.
SEO and Marketing
Search engine optimization is crucial for attracting organic traffic to your website. With WordPress handling content and WooCommerce managing ecommerce, you can employ effective SEO strategies for both your products and your blog content. Furthermore, you have access to a wealth of marketing plugins and tools to help drive traffic and sales.
Security and Support
Both WordPress and WooCommerce are actively maintained with regular updates to enhance security and performance. Additionally, the robust support communities surrounding these platforms mean you'll never be alone when you encounter issues or have questions.
With WordPress's popularity, versatility, and SEO-friendliness combined with WooCommerce's ecommerce prowess, you have the ideal duo to turn your ecommerce dreams into a thriving reality. If you're looking for a versatile, user-friendly, and scalable solution for your ecommerce in Southern California, consider the unbeatable power of WordPress and WooCommerce. Take the leap and watch your online business soar to new heights.
New Target's strategic utilization of WordPress and WooCommerce for its ecommerce clients has proven to be a resounding success. By harnessing the power of these versatile platforms, New Target has not only provided its Southern California ecommerce clients with robust and user-friendly online stores but has also delivered tailored solutions that meet the unique needs of each business. Add to that our experience as an SEO company for Orange County and an Orange County web design firm and you are in good hands as you seek to sell online.