If you ask any CEO or founder what their company's goals are, they will almost certainly answer with growth.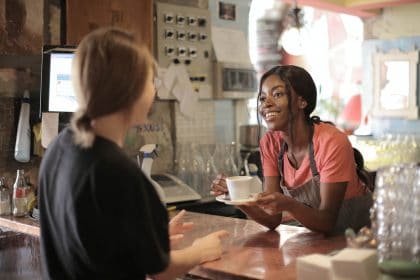 When it comes to business growth, it's easy to think that gaining new consumers is the key to success. Unfortunately, while acquiring new consumers is exciting, doing so to expand your business isn't always as cost-effective or useful as you may believe.
That's because identifying, qualifying, and nurturing leads in order to (hopefully) turn them into paying customers takes a lot of time and effort.
Rather than focusing solely on acquiring new clients in order to achieve your growth objectives, invest your time in retaining current high-value, low-effort assets—your existing customers.
Depending on the characteristics that differentiate your company (industry, size, present brand awareness, relevance among target audience members, etc.), getting a new customer can cost anywhere from five to twenty-five times more than keeping an existing customer.
WHY YOU WANT HIGH CUSTOMER RETENTION
These are a few more reasons why customer retention is so crucial to your company's overall success.
Approximately 20% of your customers account for 80% of your sales.
Customers who buy from you on a consistent basis spend more money and produce more transactions.
Customer retention breeds customer loyalty, and loyal customers breed word-of-mouth marketing, which is a very successful strategy for existing customers to refer qualified leads.
Existing customers may be reengaged to save time and money. Once a customer converts, all you have to do is get them to make a purchase again (and again… and again) with engaging and enjoyable content and experiences.
Use the following formula: (number of customers at the end of the period — number of new customers acquired during the period) / number of customers at the start of period x 100%.
6 WAYS TO BOOST CUSTOMER RETENTION
The following six customer retention strategies are relevant to basically any business. Feel free to try out some or all of them to see how your consumers react.
1. Adjust Price for Returning Customers
You can alter your pricing so that current clients are more likely to return and do more business with you.
For example, you can send consumers discounts for their next purchases via email if they send you e-receipts for their most recent orders. Or, for frequent shoppers, you can offer free shipping and returns, as well as other price-related benefits.
Finally, you could provide a low-cost subscription to your service (which we'll discuss further below).
2. Use Upselling and Cross-Selling
Use cross-selling and upselling methods throughout your website and all communications to ensure that every customer leaves with something extra in their cart.
In a physical store, upselling to customers is simple: display comparable products adjacent to each other or use other merchandising techniques to grab attention and encourage impulse purchases.
However, because online buyers frequently begin their journey in pursuit of a specific item, cross-selling and upselling must be done strategically for eCommerce businesses.
Looking for trends in your sales data is a fantastic place to start your plan. Ask yourself the following questions:
Is there a combination of two or more things that buyers frequently purchase?
Which of our things naturally complement one other and are even more useful when used together?
Which items are worth highlighting since they have upgradeable versions?
These strategies can also be used on a more basic level; for example, when clients reach a specific shopping basket total, offer free delivery.
3. Create a Customer Loyalty Program
Introducing a program to reward your most loyal clients is a simple approach to strengthen current relationships while also providing frequent incentives for them to return.
You could, for example, send a special offer to your top 10% of consumers once a month. You can run tests to see which of your offers resonates with individual clients and then fine-tune your incentives over time. A thank you note, free shipping, or a 10% discount are all possible rewards. After an offer, you'll eventually figure out which consumer demographics, actions, and preferences indicate a successful conversion.
You may also add a points system to your loyalty program, which allows consumers to earn points for things like promoting your content on social media or referring a friend who makes a purchase.
When developing a client loyalty program, the most important thing to remember is to make it simple. Make it simple for customers to understand each step they must follow to earn and redeem rewards.
4. Personalize the Buyer's Experience
Another method to recognize your customers is to personalize their experience, which may both make their life easier and make them feel appreciated while on your website.
Encourage your visitors to sign up using a smart form (for things like coupons, insider information, sale notifications, blog content, and so on).
Gather information such as their name, email address, and birthday, as well as anything else that would help you improve their experience.
Then, when they visit your website again, you can greet them with "Welcome back, [name]" on a web page. Or, you could automatically display the correct shipping information based on the contact information your form provided (which might also be saved in your CRM).
5. Offer a Subscription Service
Offering a subscription is a simple strategy to increase retention because it appeals to the desire for convenience and flexibility among customers (as you can offer monthly, quarterly, or annual subscriptions).
Consider offering add-ons like on-retainer customer support or insurance if you don't have things that can easily be sold utilizing a subscription model (such as art).
6. Meet Customers Where They Are
You'll be able to meet your customers where they are if you genuinely understand who they are, what they want from you, what their difficulties are, and where they spend their time.
You'll be able to develop the type of content they want and need (e.g., blog, video, social media) and then share it with them wherever they are (e.g., multiple websites, media channels, social platforms, and so on).
You'll stay top-of-mind, provide support even if they aren't aware they need it and demonstrate how much you care about and respect your clients.
To earn a customer's loyalty, you must go above and beyond. And the last thing you want to do is lose someone who has recently joined your company's ecosystem. Following our tips to boost your customer retention is a great start, but make sure you continuously reevaluate and analyze your strategies to see what's working and what's not.