Social media and government don't really seem like things that would go hand in hand. But, the reality of it is that social media is a hugely effective platform for communicating with constituents, launching campaigns, building awareness, and crisis communication.
At New Target, we work with several government agencies and understand the role of social media in the communication of government bodies, lawmakers, and politicians worldwide.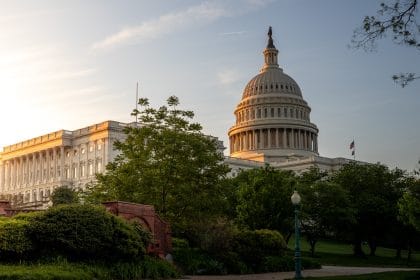 Benefits of Social Media and Government
Interact with the public
Wherever your efforts are focused, whether it be TikTok, Facebook, Twitter, etc., social media will always be the place to keep the public informed and updated about current issues and engage with audiences on a more personal level than say, the news.
Communicating and establishing relationships with constituents helps build credibility and trust; as long as you aren't only using your platform to broadcast messages, you need to actually engage with your followers to build this kind of trust.
Show people the real you
Unfortunately, politicians don't always have the greatest reputation. Often stereotyped as dishonest or greedy, using social media to build a personal brand built on transparency can shift the public perception of politicians.
A great example of someone who has done a good job at this is Alexandria Ocasio-Cortez (AOC). By sharing photos, anecdotes, and facts while being her authentic self, her following has skyrocketed, and she successfully created a personal brand for herself that people describe as relatable and honest. In fact, her approach allowed her to scale her presence on Twitter by 600% in just seven months.
Social media also gives politicians a chance to humanize themselves and make them more accessible to the public. But obviously, this can also be a downside if you accidentally post content deemed inappropriate or unaccountable. So, make sure the person in charge of a government social media account knows what they are doing.
Crisis communication
From Covid 19 to the occupation of Ukraine by Russia, there have been more than enough crises in the past years.
When these types of events occur, people turn to social media to source information, keep up with the news, and sometimes even try to ease their fears by laughing at a couple of memes.
People also turn to their government for leadership when times feel uncertain, so it makes sense to use social media as a platform to manage crisis communication and also provide regular, official updates to their scared citizens across the world.
On the other hand, social media for crisis communication can also become the largest breeding ground for misinformation. People can pretty much say anything they want on social media, and if one false tweet gets too much traction, social media users are left not only misinformed but very confused.
It is the government's responsibility to use social media listening tools to help identify inaccuracies and respond to them accordingly.
Launch and grow campaigns
Social media isn't just a place for a business to launch its product or engage with its community. Politicians also understand the power of a virtual town hall to launch their own ideas and initiatives.
In addition, social media is a great space to test campaign messaging. The strategy is relatively low stakes, and you get instant feedback from people around the globe. Social media also provides a platform for you to go viral, look at what's trending, and measure your relevancy.
Politicians also use social media to show people where they align with current initiatives and trends.
Low cost
Political campaigns run on donations, and saving money is important when decision-making. Before social media even existed, governments and politicians used traditional media, like TV ads, newspapers, flyers, etc. This was high-cost, and the impacts were immeasurable.
Now, social media gives the government a low-stakes entry point for building awareness around campaigns, growing their brand, and engaging with the public. And the great thing about social media is that it is entirely measurable, so you are able to actively see how your budget is spent and which campaigns have the most impact.
Tips for Social Media and Government
Learn where your audience spends the most time
Understanding the channels where your target audience hangs out the most is important, so you aren't wasting valuable time and resources.
For example, if you're a politician trying to sway younger voters, you'll probably want to focus more on TikTok or Instagram because this is where Gen Z spends most of their time. Or, if you want to focus on left-leaning men with college degrees, take a look at Twitter.
Share relevant, valuable content, and information
Build audience engagement and trust by sharing interesting and relevant content. This way, audiences will naturally turn to you as a credible and valid source of information and knowledge.
Engage with followers
You wouldn't usually attend a dinner party and sit in silence, not chiming in to the conversation, would you? Obviously not, and social media should be no different. Lawmakers, government officials, and government accounts need to engage with their audiences which means replying to messages, joining conversations, and answering questions.
Social media is all about creating a community. So, ask questions, respond to comments, and create polls; you never know whether a response could change a voter's mindset.
Reposting content from your constituents is also a great form of engagement.
Stay secure
A security breach in social media can seriously undermine the public's confidence in a government official or agency. To ensure all your accounts stay secure, use a social media management platform to manage all social accounts and activity across your team.
Remain compliant
Compliance with privacy requirements is essential for any government body. Large organizations with multiple social media practitioners need to establish best practices for social media use to ensure the collective compliance of every user.
Guidelines towards forbidden and acceptable content, citizen engagement, data handling, and tone are some best practice examples organizations should implement to keep their team compliant.
Social Media and Government
Social media is now an integral part of how government agencies and officials interact with the public.
If you are looking to improve your presence and engage your citizens, look no further. New Target has great experience with government agencies and is excited to help. Contact us today!