Product branding for the information security age.
CHALLENGE
Notified by ITRC is a data alert product that informs businesses and consumers about the latest publicly-reported data breaches. While New Target previously updated the ITRC digital ecosystem to better reflect the times, this new product needed an identifiable brand and an integrated digital hub to showcase its offerings.
SOLUTION
New Target created a logo and a visual identity package that fit seamlessly within the larger ITRC brand. Additionally, the product was integrated into the ITRC website to create promotional opportunities for all website visitors.
Branding and Visual Identity
Creating a brand and visual identity that is expandable was important for this product. Notified's distinct B2B and B2C features and pricing required a flexible brand framework.
New Target created a logo that crossed the two audiences by pairing a familiar alert icon with a common vehicle for people and organizations to get their alerts (email).
In addition to the logo, a visual identity was created around a font and color palette that paired nicely with the ITRC brand.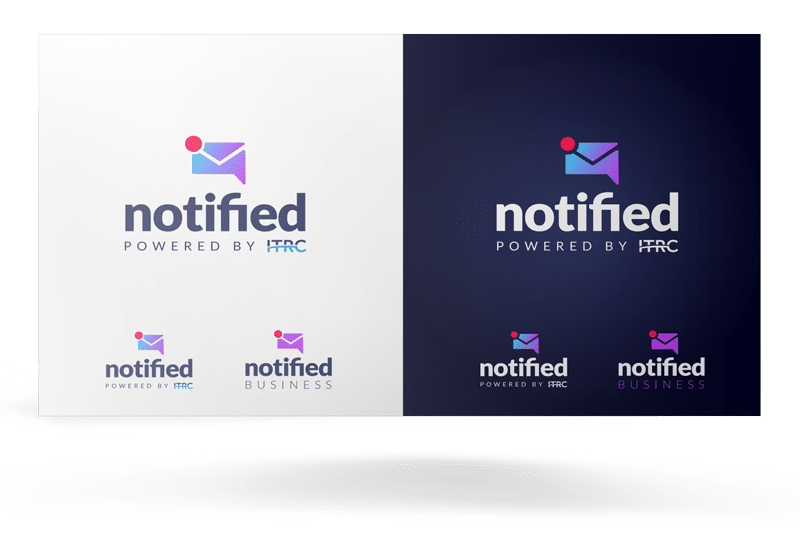 Integrating the product into the larger digital ecosystem
As part of Notified's branding, the product needed to be better integrated into the ITRC website. This started with the visual identity, but carried over into the landing page and promotional elements that are used throughout the ITRC ecosystem. The product is powered by SalesForce.
To continue to support ITRC's mission "to minimize the risk and mitigate the impact of identity compromise," features of Notified were brought into the website. This includes a glossary of terms that allows users to better understand the resources provided by ITRC. A eye-catching ticker shows data breaches that have been recently added to the ITRC database.
To promote the new product, we added house ads throughout the main ITRC website.