Greenhealth is good health.
CHALLENGE
Practice Greenhealth needed a website to house an enormous amount of information, make that content easy to find, and design it in a way that provides value across audiences.
SOLUTION
New Target conducted an extensive discovery phase and keyword ideation sessions that drove the digital strategy. We identified what was truly valuable, and incorporated must-have features and functionalities for users and staff.
During the discovery process, our team gained valuable information from staff interviews, data, and an analysis of their old website.
Our approach was to maximize the value of a large amount of content on their website providing an easy-to-navigate experience. With all websites, having a large amount of content means needing a system that allows you to manage that content. Our focus for this project was to not just create a great UX (user experience), but to create a flexible, organized, CMS interface that empowered the Practice Greenhealth staff to manage and update the content.
Our goal was to create an organic site that was easy to navigate and that encouraged visitors to dig deeper. To accomplish this, we used a palette of natural colors that are accented by bold icons which make navigation effortless.
Pages use a visual hierarchy that keeps key buttons and CTAs visible. Members can work within each topic area to learn how they can get actively involved in things like contests, case studies, and related resources.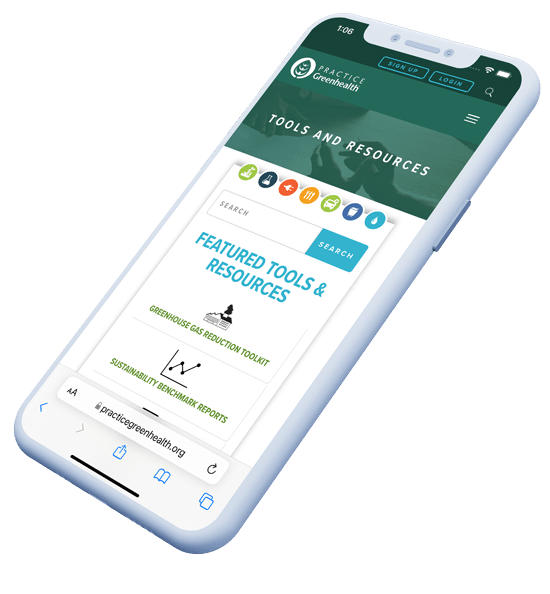 We chose Drupal to power the website and integrated it with the NetForum association management system.
This process started with migrating content from a dated Drupal website and creating an SSO (single sign-on) functionality to create a frictionless member experience.
The new CMS created a flexible, structured, website that provides authenticated users personalized content. The system is easily managed by the Practice Greenhealth staff. To accomplish this, we built the site to allow blocks to be edited across pages in a single place, created taxonomies that help users and can grow or contract as needed, and used paragraphs throughout the site to give PGH staff access to specific content on a node.