Designers and marketers recognize the importance of data in any digital strategy, but they also understand how time-consuming and laborious data analysis can be. They can interpret user activity using typical performance measures like page views, traffic source, and bounce rates, but this takes time and only provides quantitative context. This is where heatmap plugins for WordPress can help fill in the gaps.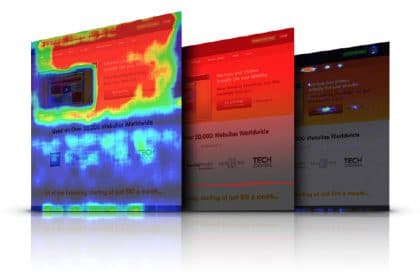 Heatmaps are a simple tool that you can use on your website to collect essential data like what draws your visitor's focus the most. Understanding what your website visitors are looking at as they scroll through will help you make the most of your design and content decisions.
Today, we'll go over how to use a heatmap and the data it gives to better your WordPress site. We'll then go over some of the top heatmap plugins and tools available right now.
Using a Heatmap
Heatmaps are a powerful visual aid. They add a layer of color to your website pages to signify hot and cold spots. The sections of your website that receive the greatest traffic will be highlighted in red.
Less interesting areas will be unhighlighted or appear in cooler colors like purple, blue, or green. Areas in orange or yellow represent sections of moderate interest, meaning only some users have taken the time to interact with or view that content.
Other website analytics solutions do not provide information like this. While Google Analytics can tell you which of your pages are the most popular, it can't tell you what it is about them that attracts visitors.
A heatmap, on the other hand, can show you exactly how leads engage with your pages, such as how far they scroll and what they click on. This data can assist you in making content and design decisions that appeal to your visitors' interests and preferences.
Best Heatmap Plugins for WordPress
Heatmap for WordPress is a mouse-tracking and real-time analytics plugin. It displays your site in easy-to-read color overlays so you can see where your problems are and where your content needs to be improved.
This plugin collects data from smart touch devices as well as PCs and laptops, giving you insight into mobile users as well as those who prefer desktop browsing. Heatmap for WordPress also doesn't slow down your site and keeps user data private.
Unfortunately, while free plans are available, each user is limited to one website and five pages. Most likely, that won't give you enough data to work with, so monthly subscriptions begin at $100.
Mouseflow is a visitor activity replay system. It captures all mouse actions, including clicks, scroll events, and even touches on mobile devices, so you can replay the session. You can even tag users to keep track of their repeat sessions and use tags to filter session recordings.
But don't worry, we didn't forget about heatmaps: Mouseflow allows you to create click maps, cursor movement maps, and scroll maps. Users' geographic location can also be used to filter maps.
Mouseflow also has capabilities for tracking user funnels (i.e., user trips through your site), viewing form interactions, and survey feedback.
Lucky Orange is more than just heatmaps. It's a comprehensive conversion-boosting toolkit that includes anonymous client recordings and funnels analysis. It can also help you connect with leads by providing sales chat capability.
For a simple setup, the LuckyOrange WordPress plugin automatically inserts your tracking codes and its affordable monthly cost starts at $10, and includes discount if you sign a one- or two-year commitment. Heatmaps are included in all plans.
If you need to keep data for longer than 30 days, you'll need to buy storage extensions. In addition, unless you purchase an add-on to remove it, LuckyOrange branding will appear in your chat windows.
Right now, Crazy Egg is the most popular heatmap tool on this list, with over 300,000 users. It is praised for its cost-effectiveness and abundance of features for understanding audience behavior. Crazy Egg provides click maps, scroll maps, visitor recordings, and other user engagement visualizations.
You'll also get data on click sources, such as whether they're coming from organic search or social media, as well as tools to help you understand user flow on your site. Crazy Egg's features, when combined, present a complete story about how users interact with your content. You can sample Crazy Egg by installing its WordPress plugin, which automatically inserts the Crazy Egg tracking script on all of your pages.
HotJar is a powerful heatmap and data collection tool for customers. Although the accompanying WordPress plugin makes it easier to set up the essential tracking tags on your site, it is not required to utilize HotJar.
HotJar, like CrazyEgg, offers several tracking options on a single platform. It also includes five different heatmap views, allowing you to focus on certain actions like scrolling, clicking, downloading, and sharing. It's also completely free for the first 2,000 page views.
HotJar, on the other hand, isn't as powerful as some of the other analytics tools on this list. Although the WordPress plugin may take care of this for you, you must add the essential tracking code to the header of any page you wish to track.
Heatmaps are one of the most useful qualitative tools for comprehending and appreciating the journeys of your consumers.
Any of the tools listed above can create stunning heatmaps, but that's just one of their many capabilities. Take advantage of free plans and trial periods to see which analytics option best suits your needs and keeps users returning to your site.
Need help? We have help available.