Barbie the Movie is in theatres near you. But then you probably already knew that because SHE has been everywhere due to a Barbie marketing blitz that has lasted six months. Last night, the Mattel and Warner Bros. Discovery teams managed to get her image beamed onto the moon's surface. Well almost. The buzz around this movie has been generated through a clever combination of social media campaigns, experiential marketing, and more than 100 brand partnerships. Crossover advertising has come in the form of Barbie-themed Xbox consoles, Pinkberry frozen yogurt flavors, and OPI nail colors (heavy on the pink, of course).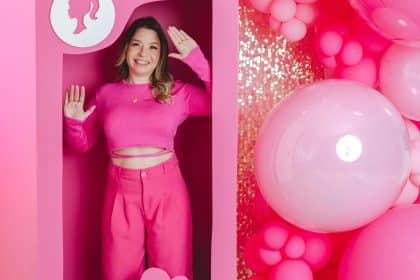 Who Is Barbie?
The Barbie doll is a popular and iconic toy that has been an integral part of the toy industry since its introduction in 1959. She was created by Ruth Handler, the co-founder of Mattel, Inc., The inspiration for Barbie came from Ruth's observation of her daughter, Barbara (Barbie for short), playing with paper dolls and imagining different adult roles for them. Barbie was marketed as a teenage fashion model, with her unique features including an adult figure, a three-dimensional face, and various outfits and accessories.
Children loved the doll, and it quickly gained popularity. Barbie became a cultural phenomenon, representing the ideals of beauty, fashion, and aspirations for many generations of girls.
Barbie and an Experimental Marketing Strategy
Experimental marketing is a strategy that aims to engage consumers directly through immersive and memorable experiences. It goes beyond traditional advertising methods by creating interactive and participatory encounters (like a photo booth that allows fans to step into Barbie packaging and "be" Barbie on that day) that allow consumers to connect with a brand or product on a deeper level.
The primary goal of experimental marketing is to create a positive and lasting impression in the minds of consumers by providing them with unique and engaging experiences. These experiences can take various forms, such as live events, pop-up shops, product demonstrations, interactive installations, virtual reality experiences, or interactive social media campaigns.
By immersing consumers in memorable experiences, experimental marketing aims to evoke emotions, build brand loyalty, and foster a stronger connection between the consumer and the brand. It allows consumers to interact with products or services in a hands-on way, which can lead to a better understanding of their features, benefits, and value.
Lessons from Barbie Marketing Strategy
The Barbie trailer first launched in December of 2022 and the marketing blitz has not subsided. The Barbie marketing campaign has been all about fun. Unlikely brand partnerships with Xbox and the video game Forza Horizon are reaching a demographic one wouldn't normally associate with the Barbie doll. Add to that a plethora of Barbie themed homeware, clothing, toothbrushes, pool toys, and the goal of making the summer of 2023 all about Barbie seems to have been achieved.
Certainly, it's possible that much of the success the movie sees will be largely attributable to the 60 years that Barbie has been creating fangirls and that this base in 2023 includes millions of young girls who are out of school at the moment and have parents and grandparents who once played in the Barbie universe. But not relying on that momentum, the Barbie marketing team has been busy with smart, fun, and tactical marketing strategies:
They built anticipation: The Barbie marketing team teased different elements of the movie. First the popular stars were announced, then plot details and then the rest of the cast was revealed. The public's curiosity was piqued, and people began talking.
They have a targeted outreach: Barbie obviously has a strong appeal with kids, but the Barbie marketing also has targeted adults through nostalgia and inclusive messaging. By knowing the key demographics, they could craft campaigns that align with the preferences and behaviors of each group.
They are greatly expanding visibility with strategic partnerships: Barbie's many cross-promotions with other brands has greatly maximized exposure to the movie. Collaborations with brands like Aldo shoes and Forever 21 enabled Barbie to expand visibility. Strategic partnerships leverage shared audiences.
They are having fun. From Barbie area rugs to kitchen décor, and the push of Barbie pink colors for everyone's bedroom, the Barbie marketers are not only giving the "Barbieverse" ideas on how to incorporate more Barbie in their everyday lives but also giving them permission to do so. Pink is the new black and everyone from House Beautiful to Harper's Bazaar is embracing the fun that is Barbie.
What seems clear though is that the public is responding to a ubiquitous campaign that is dripping with enthusiasm, positivity, and fun. The collaboration with other brands is a win/win and reveals that strange bedfellows can work together for mutual good in a smartly crafted campaign.
What's at stake for this creative marketing is perhaps Mattel's future in other content based on some of its popular toy franchises. A highly successful box office payday for the Barbie movie could validate the 14 other content projects currently in development for Mattel, including a Warner Bros. movie based on the toy car brand Matchbox.
If your brand needs innovative ideas and an impactful marketing strategy, call the New Target marketing team. With a portfolio that is expanding daily, we are helping market businesses, nonprofits, and associations get from where you are to where you want to be.